Motorcycles Don't Have Doors
by Liz Jansen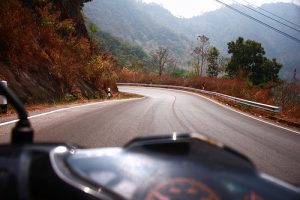 "When one door closes, another opens, but we often look so long and so regretfully upon the closed door that we do not see the one which has opened for us."
Attributed to Alexander Graham Bell, this quote has appeared often in memes in recent weeks. It refers to things not going the way we'd planned, or expected, or wanted, usually resulting in feelings of disappointment, loss, or even anger. It consoles us that something didn't happen because something better is in store for us. It sparks resilience and helps us deal with change.
Motorcycles don't have doors. The past is behind us and there's no need to wait for a door to open. As we're riding, we're wide open to infinite possibilities with no room for regrets to weigh us down. Engaging all our senses, feeling the wind, sun, heat, cold, and even rain makes us feel so alive.
Riding brings out who we are. It opens our hearts and frees our spirits to soar. It provides room for creativity to take root.
We're absolutely in the moment, not looking back at closed doors but living life for all its worth in the here and now.
Be who you are!  You don't need to wait for the door to open.
photo credit: Βethan Mae Hong Son Loop via photopin (license)