Moving Down the Road — With All it Brings
by Liz Jansen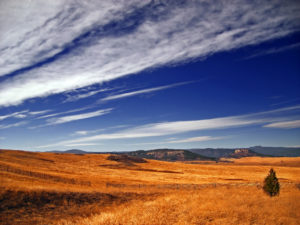 Five days into another road trip and I'm settled in to the uncertainty and unpredictability of life on the road.
Thinking I could get 650 km/400 miles behind me the first day, I made a reservation at a KOA in Millbury, Indiana. Last minute preparations meant I got a late start. I took Interstates, to make distance and get through Michigan's automotive country. Riding at 75 mph, dodging semis, was not pleasurable, nor was the industrial landscape.
The tranquil-looking tent-site was misleading. Out of sight less than a stone's throw away, was a gully, through which ran a busy State Road. What I didn't see until the morning was that the very tired KOA property backed onto intersection of two busy semi-carrying roads. In a fascinating juxtaposition, the clop, clop, clop of horses pulling buggies along the shoulder, tried to counterbalance the frenzy.
Was the day's energy mirroring back the energy I was projecting? Did I need such a frenetic reminder? Likely—to both. It was the first day of a new way of being. I haven't worked from the road in quite some time and any change is unsettling, even when it's eagerly anticipated.
I've adopted a more reasonable pace of approximately 400 km/260 miles a day. That leaves time for delays like Tuesday's severe storm—waited out in a gas station, stopping to rest in small-town squares, or cooling off in little libraries while I tend to other business.
Riding reminds me of my spirit and humanness—and invigorates both. The beauty and energy of the land, trees, sky, and rivers fills me with peace and gratitude. For four days, I've ridden secondary highways through small towns, vast cornfields, and pastureland. It's an intimate glimpse into everyday life of real people living life the best they know how. Contrary to the factory-scapes of day one, mass producing stuff, much of which we don't need, it's grounding being on the land that grows our food, watching the harvest, seeing the massive trucks that transport it to the next step (even when I have to duck flying corn cobs) on the way to our table—a very real reminder of our humanness.
Not surprisingly I overestimated how much "work" I could get done on the road. It used to frustrate me; now I recognize the familiar voice that's driving me to ride further, keep pushing, and get more done. Change makes that voice louder. As in the rest of my life, I'm learning to practice mindfulness whatever I'm doing. I've realized that being on the road, remaining in a state of surrender and acceptance even when things don't go as I think they should, is my "work" just as much as the other projects I'm involved with.
I'm moving down the road. The mountains, and all their wisdom, await.
---
Photo credit: Nicholas_T on Visualhunt.com / CC BY