On the Road Again
by Liz Jansen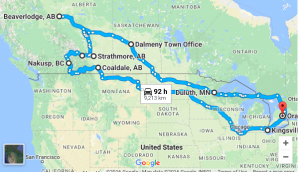 This weekend I'll resume the motorcycle part of the journey that took an unexpected turn two years ago. At that time I was three weeks into a road trip I thought would last 12-18 months minimum, traveling through the Americas seeking the answer to who we are before we're shaped by our culture.
During the intervening time, I've had much time to explore my cultural background, both in Canada and pre-Canada. It's quite incredible to look back and think I was going to spend a couple of days in the area of southern Alberta where my dad spent much of his childhood and come up with the insights I was looking for.
You can see from the approximate route outlined on the map I've expanded my scope. I'll be following the trail of my grandparents who came to Canada as impoverished refugees in the 1920's, survivors of civil war, anarchy, famine, destitute, not able to understand English, and trying to start anew in this country. Young, full of hope, and resilient, they didn't foresee the hardships and drought that would eventually drive them east to Ontario.
My goal is to place myself in their shoes as best I can, and understand how their experiences have shaped me.
My tentative route is based on significant milestones and landmarks:
Dalmeny, SK where my mother was born and her family lived for a few years.
Beaverlodge, AB where my father spent the first two years of life; his parents homesteaded here until his father died, likely from TB.
Namaka, AB, east of Calgary where my father lived from age 4-11 when his mother remarried. They lived on a section of land abutting the Siksika Reservation and interacted frequently with the Blackfoot people.
Siksika Festival near Namaka Aug. 11-14 where I hope to learn more of the history of the land.
Michichi, AB – where my mother's parents farmed for three futile years in the 30's.
Calgary, AB to get my Triumph serviced at the same dealership that laid my Ténéré to rest.
Canmore, AB to the Stowasis to visit friends.
Nakusp, BC and the Horizons Unlimited Travelers meeting Aug 25-28.
Coaldale, AB to visit relatives of my grandfather (mom's father).
Kingsville, ON, where my mother's family lived for a few years before moving to Niagara.
Returning to home base by early September.
We all know how plans can change, but that's the plan I'm working from. Naturally, I'll keep you posted as time permits. My goal is to remain in a state of surrender and curiosity, open to what the road delivers. Follow along and let's see what that is!