Thanksgiving Tribute to My Parents
It's Thanksgiving Weekend in Canada.  This year it's a double celebration as my immediate family is gathering to celebrate my parents' sixtieth wedding anniversary.  This post is a tribute to them.
On October 25, 1952,  Ben and Margaret Jansen married and strode purposefully out of the simple, white-frame church and into a future of hope, promise and anticipation of building a happy life together. Individually well established, at twenty-six years of age, my parents were late getting started as a couple. Today, we celebrate not only sixty years of marriage, but gratitude for the gift of family and the experiences we have shared.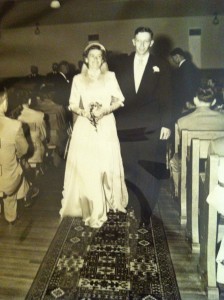 The intervening years have produced six children, nine grandchildren and no great-grandchildren. Our collective family has supported each other through hardships including serious illnesses, accidents, death, disability and divorce. But overall, the legacy my parents leave through their works and their children is one of love, charity, compassion and strong personal values.
Both born in Canada in 1926, mom and dad were children of German-speaking Mennonite refugees who fled the Russian Revolution with little more than their values, the clothes on their back, their ingenuity and work ethic. In their mid-twenties, they had to learn a new culture and language, they had to re-establish themselves.
Within a couple of years, dad's father died, leaving a young widow with a toddler in remote Beaver Lodge, AB. Life was tough for my grandmother who found work as a housekeeper, something she would continue for much of her working life. Remarriage, four children and poverty followed.
Although he managed to complete eighth grade, dad had to work to help support his family, something that he became solely responsible for when his stepfather died in a car accident in 1945. Too young to enlist in the World War II military, he contributed to his family and the war effort by becoming a skilled fire-weld chain-maker. In 1949 he began what would become a six-year stint at General Motors as a Millwright assistant, the job he had when they married.
Mom was effectively the oldest child, an infant sister having died from whooping-cough, days before my grandparents boarded the train that would take them to freedom and the boat to Canada. Initially farm hands in Manitoba and Saskatchewan, her parents eventually homesteaded their own land in Alberta until three successive years of drought and crop failure in the 1930's drove them east to Ontario. Mom not only completed secondary school and nurse's training, her proficiency and high regard earned her a scholarship for University of Toronto post-secondary studies.
The young couple worked hard and in 1956, purchased their dream – a twenty acre fruit farm in Niagara, surrounded on three sides by a beautiful hardwood ravine. Farming is not for the faint of heart and leaving a regular paycheck, jumping in with little experience to back up the dream, a two-year old (me) and a baby, led to difficult years.
Fruit trees take four to five years from time of planting until they bear a significant crop. The peach and cherry trees on the farm were only two to three years old. A small row crop tractor, bolstered by borrowing Rusty, the neighbor's workhorse, was the only equipment dad had for the first two years. The 1905 farmhouse had meager indoor plumbing, with rough rudimentary cupboards in the kitchen; the kitchen water came from a hand pump.
Although they managed to gross $3,600 that first summer, it was not enough to make ends meet. Fortunately, skilled chain-makers were in high demand and commanding high wages – and that pulled them through their first farm winter.
The second season was better. They rented additional property right on Lake Ontario, which we as kids loved. We had to keep clear of the poison ivy under the sweet cherry trees and not antagonize the cantankerous geese brought in to weed strawberries, but we had our own private beach and spent many summer evenings swimming and playing at the lake.
Over the years, dad rented various parcels of land, most of which he farmed for extended periods. In addition to gaining expertise growing peaches, pears, sweet cherries, sour cherries, strawberries, apples, he also found a niche for rhubarb and squash, crops he cultivated for twenty-five and twenty years respectively. We never received an allowance but all worked on the farm and received the going wage for whatever we were doing.
With babies arriving regularly until there were six of us, it seemed they were trying to create their own labor pool. Like the trees, it took us a few years until we could add labor value so they to had rely on seasonal hired help. In the early years, there was a "help house" which became home for a series of extended families who cycled through while working on the farm. The dilapidated structure was eventually torn down during a barn expansion and replaced with a mobile unit which migrant Mexican laborers called home from May to October.
Money was always tight, but there was enough for us to have a piano, piano lessons, bicycles, attend girls clubs, boys clubs and sports teams — for the boys. I wasn't interested and my two sisters were too young. As soon as I was able to manage the brood, mom returned to her nursing work during the winter, usually working evening shifts. Dad delivered fuel oil for ten years. And that's how they got through.
Being a farmer meant summer vacation was out of the question for dad, but we did rent a cottage for a week during a few summers when we were young and he would try and make it for the weekend. Come to think of it, I'm sure he appreciated the rare solitude at home.
In 1967, they rented a 14' house trailer, pawned baby Mary off on my grandparents and took the rest of us to Montreal and Expo '67. The following winter, they shoe-horned all eight of into their 1965 Ford Galaxy 500 for a one week vacation in Fort Lauderdale. Not thinking to book ahead for a place to stay on the way down, we ended up lost, in construction and spending the night in cots in the hallways of a rooming house. Who could blame my mom for developing a wicked migraine?
They were dealt a crushing blow in 1979 when half their dream, now a fully bearing, viable farm operation they had put heart and soul into for more than twenty years, was expropriated to make room for a highway. As dad tells it, a government official came on their property, literally drew a line in the soil and told dad the land on one side of it was no longer his.
Completely out of the blue, the news and years of legal battles which followed took the wind out of their sails. They, who were peaceful farmers and not savvy in the ways of government and lawyers, had to fight for every cent of compensation.
They stopped active farming almost twenty years ago, choosing instead to rent what was left of their land to a young farmer, who just as they had done, was renting available parcels of land to become established. They also now had more time for travel which took them across North America and Europe.
Mom in particular participated in medical missions, working as a volunteer nurse in eye clinics in Ecuador, Nicaragua, Dominican Republic, Belize and Mexico. Occasionally dad would accompany her to help set up clinics. One of their last trips was to the Ukraine and the country where their parents and grandparents had experienced unspeakable horrors.
One year ago, they chose to sell the farm and move into a lovely retirement community. Now eighty-six and in less than optimal health, their hearts miss their farm but rationally, they know they made the right decision. They live independently, in a modern, single story home that requires no upkeep and sits in a lovely setting where they grew up.
The restaurant where we'll have dinner is a renovated farmhouse. Twenty of us will eat together at a large square table in a private room overlooking Lake Ontario. It's mere miles from where they became husband and wife, the land they farmed and the pebbly beach we played on. A fitting setting to celebrate and give thanks.