Toronto Motorcycle Show She Rides Night
by Liz Jansen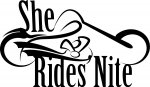 Friday evening has traditionally been She Rides Night at the Toronto Motorcycle Show, and this year is no exception. This year it's my honor to be sharing the stage with these amazing women, beginning at 5:00 p.m.  As if that isn't enough, women get in for half price, and there are specials and prizes going on all evening so c'mon down and join the fun!
Get Inspired by these women tomorrow evening: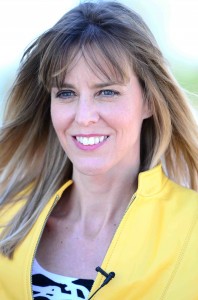 Lorraine Sommerfeld writes for the Globe & Mail's Drive section and is the host of Roger's TV Lemon Aid Car Show.
She writes the column Motherlode, in the Life section of The Hamilton Spectator. It is an always honest, often irreverent and frequently humorous look at life in a nutty household.
Both columns previously appeared weekly in The Toronto Star.
Sommerfeld began her career as her 40th birthday was rapidly approaching. Whether she's wrestling  Land Rovers up a 16,000 foot mountain in Argentina, learning how to box, driving Smart cars through the Yukon in January or rambling a 30' RV through the Maritimes, Sommerfeld does nothing in small measure.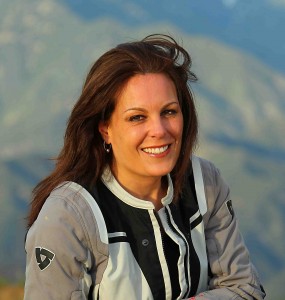 Sarah Schilke is an avid street rider and amateur offroad racer,  who has made a career out of her passion with almost 2 decades in the motorcycle industry under her kidney belt.
Sarah's current position is Marketing & P.R. Manager for Schuberth North America, the renowned German helmet manufacturer. Her background also includes positions with the U.S. Motorcycle Shows, Hein Gericke, and the American Motorcyclist Association.
Sarah is the first woman to be elected to the Board of Directors of the Motorcycle Industry Council in the U.S. and is an Expert to the Commission on Women in Motorcycling of the International Motorcycling Federation (FIM).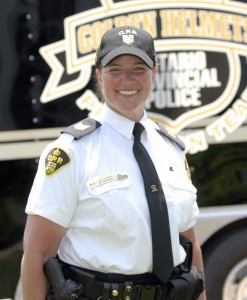 Lise Grenier is becoming legendary as she has progressed steadily through the ranks of the motorcycling division of the Ontario Provincial Police (OPP). She's the Specialized patrol Coordinator, OPP Highway Safety Division, Past President, Ontario Association of Police Motorcycle Instructors, and Ride Master, OPP Golden Helmets Motorcycle Precision Riding Team.
Twenty-four years ago when she started her career, you would have been hard pressed to find two more soliday male bastions than the police first and motorcycling. Lise never considered she couldn't do either. She was raised with traditional values and believed she could do anything she set her mind to.
Lise can ride circles around just about anyone on her big policy Harley, and she is an extraordinary leader and mentor to an ver-widenig circle of protégées.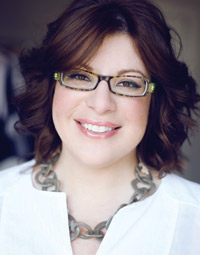 Lia Grimanis is a successful businesswoman, rides a pink BMW motorcycle, she's fed sharks underwater, driven a tank, wingwalked, jousted in full armor, and she plays the harp.
She was also once homeless.
Fulfilling a promise she made in the shelter, Lia went from homeless high school dropout, to Regional Head of Financial Services Americas for a division within a billion dollar global technology firm. More importantly, she founded the non-profit Up With Women to help homeless and at-risk women to build successful careers and businesses. She has been named one of Canada's 100 Most Powerful Women, Chatelaine Woman of the Year, and, most recently, she earned a Guinness World Record for Heaviest Vehicle Pulled 100 ft by a Woman to raise money for Up With Women, while challenging women to recognize that we are stronger than we think we are.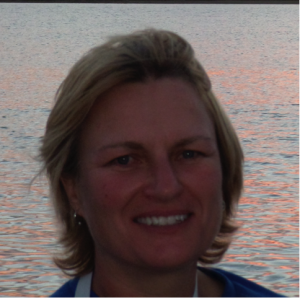 Barb Piatkowski is truly a lifelong motorcycle enthusiast.  She took her first rider training course at 17, bought her first motorcycle a year later (1983 Honda CM450) and has not been without a motorcycle since.  She became a rider training instructor in 1991 and is currently the Field Operations Manager at the Rider Training Institute, responsible for curriculum development and instructor training, as well as a Senior Instructor in all of RTI's licensing and skills development course offerings.
Barb currently rides a 2006 Honda CBR1000RR and has toured extensively throughout Canada and the United States.  In the fall of 2013 she took the trip of a lifetime, riding 2400 kms on a 150cc scooter throughout Egypt as a participant in the Cross Egypt Challenge.  Barb is an advocate of lifelong learning and ATGATT (all the gear, all the time).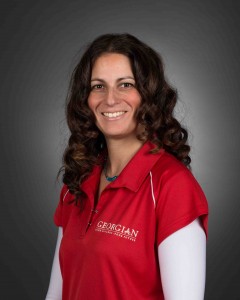 Jenn Martin has a passion is riding and assisting others to pursue their own dreams on two wheels.  Jenn has been riding for over 30 years and has managed to translate that joy and passion into ongoing employment!  As Chief Coordinating Instructor at Georgian College, she works and trains with all levels of riders in Georgian's different course offerings of motorcycles and most recently, as Ontario's first college and training facility to provide licensing and training on motor tricycles.  Jenn also conducts In-Vehicle Training for the Ministry of Transportation's M2 Signing Authority Training and has been a motorcycle demonstrator rider for Serco DES (Driver Examination Centre).  An off-road Instructor in her spare time, Jenn teaches dirt bikes, ATVs, and is a Canada Safety Council Certified Instructor for Snowmobiling.  Jenn tours the motorcycles shows across Canada teaching children ages 6 – 12 how to ride with the Yamaha Riding Academy.
What does Jenn love the most about riding?  "The absolute and total joy I feel.  There is nothing like it."
Sandra Hinksman always wanted to take a map of Ontario and visit all the small towns that make up our vast province. She just couldn't seem to get motivated to get behind the wheel of my car and embark on this journey…..and then, in her mid 40's, she bought a motorcycle, and the real journey began.
She thought she loved to drive until she discovered she really loved to ride. There's a difference. A car will get you where you want to go via the shortest and fastest route. On a bike, there are no straight lines, the distance between point A and B is the most scenic route possible. It is never about the destination but all about the journey.
Joining The Motor Maids really opened up the world of motorcycling and allowed her to meet women from all walks of life who are brought together through a common love of riding. She's now District Director for Eastern Canada.
Her life took an amazing turn when she decided to follow my inner voice and take up motorcycling and she knows she have many years of great riding ahead of her. She can't wait to start the next journey.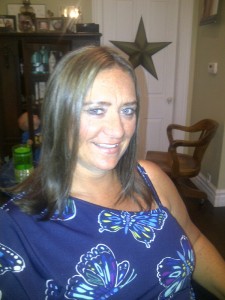 Tracy Machado, started riding in 2005 at age 36, on a brand new 2005 Honda Shadow 600 cc bike. It was a fabulous bike to learn on and she went everywhere she could on that bike including the Dragon's Tail in Tennessee.
She now rides now a Honda VTX 1300 cc cruiser and is looking forward to a Honda Goldwing in a few years. It is definitely her passion in life! She wishes she'd started sooner as there are so many places to go!
She's been out to the East Coast, all over Ontario, many places in the States and has many places left to go – Alaska, Rockies, California, for starters. Any day she can ride is a great day, often riding with her fellow Durham Divas.
Tracy loves talking to women who are interested in motorcycling, whether they want to learn to ride or want to tell their stories. It is such an amazing experience!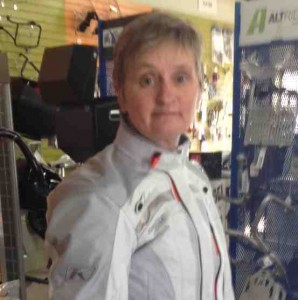 Catharine St Denis met Les Clarke in 2004, and he introduced her to the motorcycling. In 2005 the duo did a two up adventure for three weeks across Central America. After getting her own motorcycle license in 2006, she and Les returned to Central America in 2007 for a 6-week adventure along the same route, this time on two bikes.
Upon returning back, they realized there was a passion for motorcycle adventure travel on two wheels and no motorcycle shops specializing in this unique niche market. From that, Dual Sport Plus Inc, was born.
In 2010 the business took them on a 48-day adventure through South Africa, Namibia, Zambia, Botswana, and  back to Cape Town.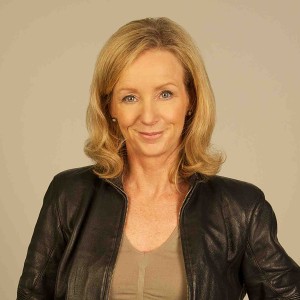 Nancy Mayer has been riding cruisers for over 35 years. She became aware of the TOTAL CONTROL ARC (Advanced Riding Course) through Lee Parks and quickly became an instructor. She then worked closely with Lee to develop the Level 2 Instructor's manual and started teaching both Level 1 & 2 primarily to the U.S. Marines. She was so impressed by the change the course had made for her, she joined forces with gtamotorcycle.com and began teaching at the Hershey Centre in 2012.  In its second year of operation Sharp Rider Motorcycle Training was awarded Total Control's "Best raining Site of the Year 2013."