A Witch Hunt Yields An Unexpected Find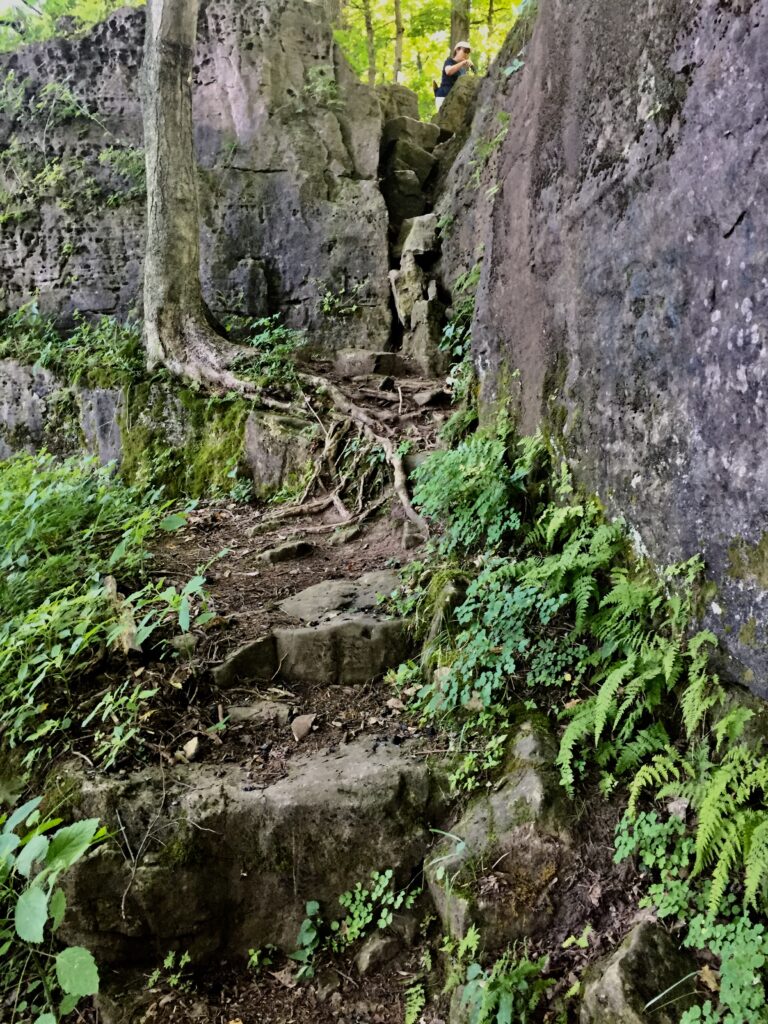 Off on a Witch Hunt
Last weekend, a hike dubbed the Cave Springs Witch Hunt along a section of the Bruce Trail piqued my interest. I was curious about the witch, but more than that, the two-hour hike through the only Carolinian forest in Canada would take me to my past, to a hike I'd taken when I was about eleven—a while ago!
The Bruce Trail runs through land my grandparents purchased in 1944, the first farm of their own since coming to Canada twenty years earlier. It passed down to my uncle and from him, to two of his sons who now run it. There must have been a family gathering because I remember my uncle leading a gaggle of playful cousins along the path.
Since the meeting place was a stone's throw from the farm, I asked if I could park Trudy there while I hiked. Both cousins, and some of their children, are skilled off-road riders and readily agreed.
Diversion
Nostalgia engulfed me as soon as I turned off the main road onto the curves of the secondary route leading to the farm. Memories of us kids crammed in the back seat of Dad's mint green 1963 Chevy Biscayne (he was colorblind) flooded in. Many times, my parents had driven that road to visit my grandparents and for family gatherings.
The red-brick house with ornate Victorian gingerbread house is the same. The old wooden barn has been replaced by a much larger and more modern structure. The pipe in the rock face across the road that delivered a constant stream of fresh spring water from an underground source, tasty and cold, was sealed long ago. The red chair swing that we got strapped into weathered away. But the pair of towering pines with a board nailed between them from which the swing hung, are still there. Another uncle would push us as we shrieked with excitement and terror. It felt like he'd push until we swung right around in a circle. As soon as he stopped, we'd beg him to do it again.
I allowed extra time for the two-hour drive for vacation traffic but there'd been no holdups and I'd arrived early. It's been a year since I had a blissful ride on a gorgeous early summer morning. That gave me time to sit on the old stone wall. It was like I'd been whisked back in a time machine—the earlier, simpler times, when school had ended and wouldn't start again for an eternity.

Walking in the Footsteps of Giants
By the time I arrived shortly before 8:00 a.m. my cousins had been up and working for hours. Tractors and equipment came and went from the barn, hauling supplies to distant fields. The land my parents had farmed was thirteen miles away, which seemed like a long way. They grew different crops, but the energy was the same.
The heat of the day hadn't arrived as I eventually made my way to join the other hikers. All was as I'd remembered on the trail, except for the social distancing. The old trees shaded us as we watched our footing on the uneven terrain, heaved up to form the escarpment. Ancient rocks marked by crevices and irregularities have worn smooth over 30-million years of history and weather.
The footpath running along the ridge has been a popular thoroughfare for centuries, long before hiking was a recreational activity. Stone engravings attest to the rich history from the feet of First Nations people, pioneers, and even German spies. Legend has it they camouflaged themselves in the ledges and rocks during WWII to observe an air force base on lower ground, close to Lake Ontario. The witch hunt came up empty although we saw her house, overgrown and dilapidated, still clinging to the rock face.
Visiting the Family Elders
I'd planned to follow the walk with a visit to Dad's resting spot, in an old cemetery four miles away. There the grand old oak trees offered shade and serenity. They're a natural nesting ground and the birdsong is lovely, but those birds can leave a trail when they fly over the headstones. I parked Trudy in the shade, then stripped out of my riding gear, including boots and socks. I'd brought a cloth to clean Dad's headstone—after I had lunch and napped under the old oak.
Mennonites of all persuasions and migrations lie here– friends of my parents and ancestors, to most I'd never known. Yet again, there was a familiarity and sense of comfort. Nap over, I picked up my cloth and cleaner and walked barefoot across the earth. It was grounding, reminding me where I'd come from, the strength of my ancestors, and the community.
Acorns poked into tender feet unaccustomed to walking barefoot. I meandered around the cemetery, paying my respects to those who'd come before. There's nothing like, wiping the bird poop from the headstones of my direct ancestors to help stay grounded.
It was still early afternoon but the day had been rich beyond my wildest expectations. Walking in nature, being on a farm, and paying respect to my heritage had brought together my spiritual and family roots. Returning to the land that once nourished us reminds us how grounding this can be.
Cycles of Nature
What started as a witch hunt had yielded unexpected results. I'd felt the small stone in my motorcycle boot when I put it on but didn't bother removing it when I visited with other friends in the afternoon. It wasn't really bothersome and I wasn't walking anywhere. It stayed there until I got home that night and tipped my boot on the patio. Out fell a little acorn, a reminder of the circle of life– beginnings, crops, graves- and that we're a part of this big cycle of nature we call life.
---
August is traditionally a month that I'm on the road. I'd expected to be in Alberta this year, listening. While that's not going to happen, I can still listen. To help with that, I'll take a break from social media, my newsletter, and weekly posts, beginning Aug. 2. It's a different kind of journey than I'd planned but exciting just the same. You can still reach me via email. Thank you!