10 Things I Learned at Lawrence Hacking's Overland Adventure Rally
While none of these things were new lessons, they came home in a new way this weekend, when I was at Lawrence Hacking's Overland Adventure Rally. From start to finish, it was an incredible experience – this time, right in my own back yard.
10 Things I Learned at Lawrence Hacking's Overland Adventure Rally
Adventure begins at home. And it doesn't matter how long you've been riding, what style, size or brand of motorcycle you ride – or if you even ride! We can dream of traveling around the world, trekking the Andes or sailing the world, but the truth of the matter is that there is plenty to feed our adventure gene if we appreciate the moment, and the time and place we're in.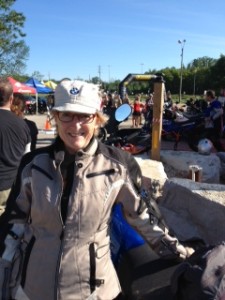 The world is full of like-spirited people who are happy to lend a hand, bend an ear and break bread together. Do what you love doing; others will soon join you.
I am extremely blessed with wonderful friends. There are also many friends I haven't yet met, fewer after the rally. There were no strangers in the diverse crowd, even though I had not met many of them before the weekend.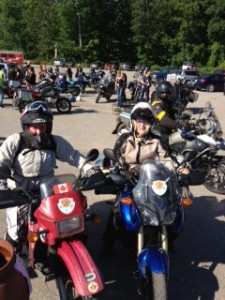 You can carry everything you need to survive in the space of a 6-foot motorcycle. So proved Rene Cormier on his 5 year round the world travels. If you haven't read his book, University of Gravel Roads, It's full of engaging photographs of his travels, but more importantly, is his philosophy
Even world-renowned adventurers are fearful. I hadn't comprehended the extent of fear faced by people like Simon Pavey, at the top of their game, when they were pushing their own comfort zone. It makes sense – no one is immune to fear, it's just that it visits us under different circumstances. It's both reassuring and inspiring to know that if others can push put the fear in perspective and learn to move beyond it, anyone can, regardless of the magnitude of what you want to do. Think of the possibilities!
Adventure begets adventure. Once you push past your comfort zone, you experience a new self-confidence, sense of independence and freedom – and strengths you didn't know you had. There's a feeling of joy and accomplishment – and you want to explore even further.
We make things harder than they need to be, and we don't even know it. I need to learn how to walk my bike better. One of the exercises at Simon Pavey's clinic was walking your bike, using balance and clutch control. I had no idea my posture was so bad, or how hard I was making it until I saw this photo. I have to learn to trust the balance of the bike. I thought that resting it on my hip was a good thing, until Lawrence Hacking showed me a better way.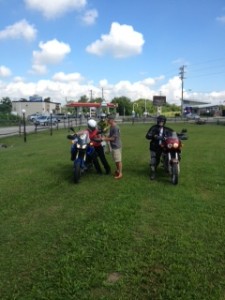 My handlebars were set too low. Another example of obliviously having things harder than they need to be. I've been riding with the handlebars like that for two years! What an improvement in in ease of handling with a small adjustment.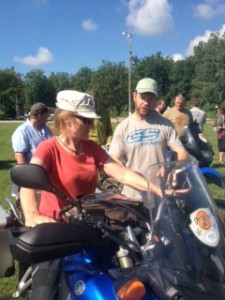 Spending money on experiences is so much more gratifying than spending it on things. Years ago I made a conscious budgeting decision that I'd much sooner spend money on experiences with others – and solo – rather than accumulate things. Other than essentials for living (OK – a motorcycle is one of them for me), accumulating things has no meaning for me. People who give up things and live simply are rich beyond their wildest dreams.
I'm going again next year. Mark your calendars for July 11-13, 2014 – Lawrence Hacking's Overland Adventure Rally.
See you there!
@trilliumliz You are so wise. I like # 6 and #7. : )

— Stacey (@staceylong18) July 16, 2013