Embracing the Adventuress Lifestyle
by Liz Jansen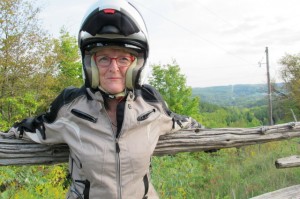 It was my honor to be interviewed recently by Carolyn Hamilton, Editor & Chief Adventuress for Adventuress Travel Magazine, an e-zine for active women over 50 doing all sorts of fun things. The site's a dynamic travel source, offering true experiences, sound travel tips, and stories of adventuresses in history, books and film.
Carolyn asked me about my riding experience, why I recommend motorcycling for women (I don't), and how women can find a supportive motorcycle community. You may be surprised at some of my answers. In any case, I'd love to hear your thoughts. Read the article here.
There's a ton of engaging and inspiring material on this site. Two of my favorite pages were Adventuress Travel Tales and Profiles—stories of women living meaningful lives to the fullest.
And that's just scratching the surface of what's there.
There's also a fabulous opportunity to discover South America while learning how to write and sell articles and photos to travel magazines. Imagine having a pro teach you how to do this and then using your new skills to travel the world.
Set aside time to browse this site. As a fellow adventuress, I trust you'll find it as engaging as I did. But beware. It may well ignite creative interests that have been in hibernation. There's no time like the present to wake them up!
Photo credit: Rodney Barnes