Andrea Coleman – Revolutionizing Health Care Access in Africa
by Liz Jansen
Over the next five weeks, we will feature biographies from each speaker at the inaugural Power of the Road online conference. We begin with Andrea Coleman, co-founder of Riders for Health, the event charity. 
In 2013 alone, Andrea Coleman won Barclays Woman of the Year award, for her work with Riders for Health which is revolutionizing medical provision across Africa. Riders for Health received the Big Impact Award, Third Sector Excellence Awards for its role in improving diagnosis and treatment of HIV in rural communities in southern Africa. The Global Journal evaluated applications from approximately 450 NGO's from all over the world and placed Riders for Health in 31st position. They received the Case Business School award for social entrepreneurship, and the Aspen Institute's Resolve Award for their partnership with the Gambian government. Ironically, Andrea detested the structure of school and left at age 16.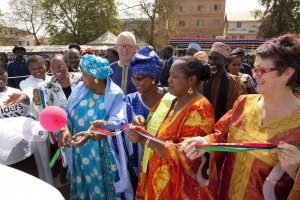 Andrea was born into a motorcycling family. Both her father and uncle raced in Britain before the Second World War. By her 16th birthday, she'd saved up enough money for her own bike, got her license and had her freedom. More interested in making money than completing school, she worked at a series of diverse jobs, from window cleaning to looking after elephants in the circus.
In the early 70's she became a racer herself, and met her husband Tom Herron, who would become a Grand Prix motorcycle racer. His tragic death in a racing accident in Northern Ireland got her interested in motorcycle safety. Through this interest, she met her second husband Barry Coleman, a motorcycle journalist.
In the late 1980s Barry and Andrea Coleman became aware that people in Africa were dying because they were not being reached with health care, while vehicles with low mileage were discarded and sat rusting because no one knew how to maintain them. In particular, Andrea was struck by the fact that women and children in rural villages were not receiving the health care they needed, because health care vehicles had broken down.
They decided to take action following several trips to rural African communities that they'd been supporting via charitable donations and fundraising.
Andrea understood that motorcycles could reach communities that no other vehicle could access. She also knew that a well-maintained fleets of motorcycles and vehicles could make a dramatic difference in healthcare delivery to areas without any health infrastructure.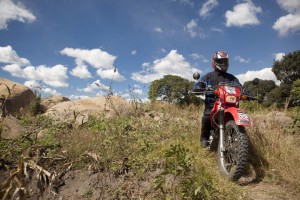 Ever resourceful, pragmatic and energetic, her outlook and skills have helped guide the financial and advocacy development of Riders. Their programs train local health workers to maintain motorcycles, ride and drive, enabling them to carry out their jobs properly and deliver healthcare to those in need.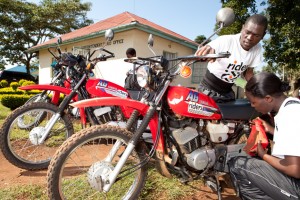 More than twenty years after hatching the concept around their kitchen table, Riders for Health has become a global social enterprise that manages and maintains motorcycles and four-wheeled vehicles to ensure lifesaving health care can reach even the most remote communities in Africa.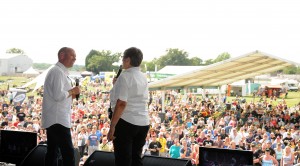 From meager beginnings and a dream, it's grown to an organization that has programs in seven countries across Africa in partnership with local hospitals and clinics, ministries of health and NGOs, and improves access to health care to over 12 million people.
For more information, visit Riders for Health website, engage with them on Facebook, follow them on Twitter and check out their You Tube Channel.