Rene Cormier—Graduate of the University of Gravel Roads
by Liz Jansen
Listen, chat with, learn and get inspired by Rene at the Power of the Road online conference, April 7 to 11, 2014.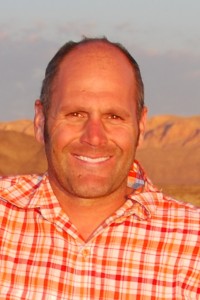 Rene Cormier sold all his material possessions at age 33, and decided to travel the world by motorcycle. Five and a half years, 41 countries, 154,000 kilometers (95,000 miles) and countless memories later he returned. Now in his 5th year of Renedian Adventures, specializing in motorcycle tours in southern Africa, he wouldn't change a thing.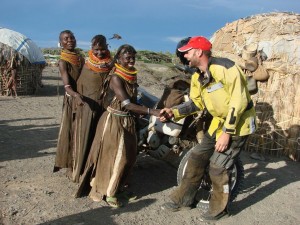 Prior to that, he was the PR person for Rock Shox (bicycles) in Colorado. Although offered a transfer when the company was sold and his position moved to Chicago, he realized he wasn't a fit with the new marketing group.
Although he'd had a pipe dream of traveling the world, never in his wildest dreams did he ever think he'd do it. His research led him to believe he could do it on $25-30/day. Selling everything he had brought in less than he'd planned but he figured he had enough for three years.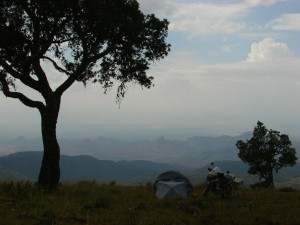 Mexico was the first country where the language changed, the money became a bit different – and the big questions reared up – "What if I need medicine?" "What if I crash?" What if I need a toilet?"
The easiest way he found to get through those questions was to look at the days that worked out – and that was most of them. He didn't always know how they were going to work out, but they always did. He says those questions are always there, but by the second year he was more comfortable with them. "They're useful to have because they can keep you safe, but they can also get in the way."
On his return to Edmonton, Alberta, Canada, Rene was 39, with very little money but as he points out, at least he didn't owe any money. He found a "luxury" basement apartment, started working in construction and began writing The University of Gravel Roads. He didn't know how to write or publish a book, but he also hadn't known how to ride around the world.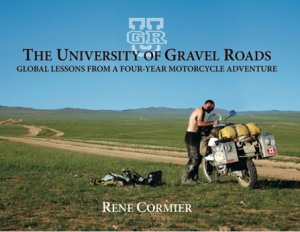 "When you're traveling around the world, you're not going to worry about where you're going to find fuel on the 6th day of the 4th year." He didn't even know what continent he was going to be on. All he needed to do for today was get from where he was to 2-3 hours away. And that's pretty manageable for most people. The next day, your only task for the day is to find your way from that place to another 3-4 hours away. It's the same approach he used for the book.
Rene made a last minute decision to head south from where he was to Capetown instead of north to Yemen. There he met someone on the beach who would be his introduction to motorcycle tours and Colette. Renedian Adventures is now in year 5 and has doubled in size every year. He and Colette married in 2010; Jacques Rene was born in 2012 in Capetown. They spend half the year in Canada and the other half in southern Africa, where he loves showing people a very special part of the world.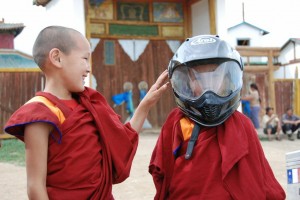 "There is no way that I would have been able to tell when losing my job would end up like this," says Rene. "I wouldn't have even known this type of job exists," says Rene. "I'm not afraid of being poor, not having disposable income – new clothes or new vehicles. I realized I don't need any of those things. I came back with zero money. Now we must build for the baby's education, but we're not fighting our ego over it."
In 2012 Rene joined the Ted Simon Foundation's Committee of Advisers to encourage and assist travellers in making an extra effort to develop their observations and insights into something of value for the rest of the world to share.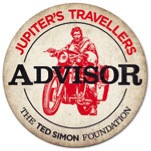 The best way to reach Rene – is via email: renedian@mac.com.