10 Hazards with Autumn Motorcycle Riding
by Liz Jansen
With autumn and autumn motorcycle riding officially here,  the realization that the riding season is drawing to a close shifts the focus of riders from lavishing the dog days of summer to catching the final riding days before storing our bikes.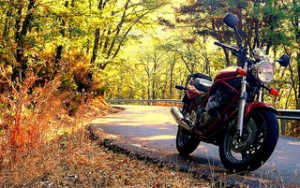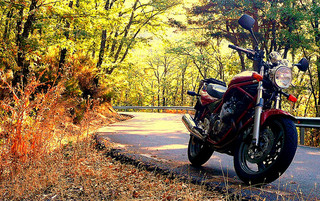 The predictable and cyclical changes in nature occurring at this time of year, create unique hazards for motorcyclists.
Even though we can be temporarily teased by unseasonably warm weather and sunny skies, the unstoppable reality is that leaves are falling, temperatures are dropping and daylight is diminishing.
Here are ten conditions to prepare for.
Leaves on roads.  Dry leaves can camouflage potholes and other road irregularities.  Wet leaves are slippery and can appear unexpectedly in shaded areas.  Use caution particularly during those scenic autumn rides as conditions can change.
Shorter days.  If you do much riding at all, you're likely going to be riding in the dark. Take extra care to make sure bulbs in headlights, brake lights and turn signals are working and lens are clean.  Wear high-visibility and reflective gear to make yourself as obvious as possible.
Sunlight glare. The sun is lower in the sky and glare can be an issue for much of the day, unless you're facing north.  Along with this, as trees become barren of leaves,  the patterns of light and shade can be like riding in a strobe light and very distracting.
Deer migration and mating season. More collisions with deer occur now than at any other time of the year as a result of the dramatic increase in their movement. Be especially vigilant at dusk and dawn.
Cold tires. While touring tires with their harder rubber compound are generally more suitable for cold weather, sportier tires are not.  The sportier the tires, the softer the rubber.  This is fantastic in hot weather and gives them their grippy characteristics which aid traction.  In the cold, they're hard and that traction is gone.
Cold riders. Cold is fatiguing and in turn can cause greater impairment than moderate alcohol intake.  Even when you're wearing good gear and staying warm, the ambient temperature takes its toll. You don't notice when you're riding, especially over long distances and it can be startling when you stop to realize how tired you really are.  Staying hydrated and taking regular rest stops help with this.
Improper gear. Bundling up with lots of layers can be a great strategy for dealing with fluctuating temperatures during the day. However, too much bulk is not only fatiguing, it can impede your ability to react.  Heated gear is a fabulous invention.  You need fewer layers and it effectively – and comfortably – extends the riding season.
Icy road surfaces. Frosty mornings mean that pavement can have a thin layer of ice and you can lose traction.  As the temperature drops in the evening, be particularly cognizant crossing bridges and shaded areas as they'll ice up first. Be prepared for changing conditions even during the day if you're travelling through mountains and changing elevations.
Fewer riders out. This means that car drivers, who don't see us at the best of times, are now expecting to see motorcycle riders even less often. Be more cautious and alert.  Make yourself as conspicuous as possible and assume the don't see you.
Isolation.  Scenic back roads which weave through quaint small towns, particularly in tourist areas have a whole different feel to them.  Seasonal businesses close and rest stops and favorite watering holes may not be available. Plan accordingly for gas, food, lodging and emergency contacts.
Autumn is a beautiful time to ride.  There is less traffic on back roads, the fall colors are spectacular and the air is clear and crisp.  Once the leaves have fallen,  the underlying rocks and terrain become visible.  You can see much further and you note things that were always there but covered.
The hazards aren't necessarily greater than during other seasons – only different. The challenge is being prepared — not complacent. The rewards are immeasurable.