26 Signs of Fatigue While Riding Your Motorcycle
Recognizing signs of fatigue before and while riding will save your life. With the feelings of exhilaration, freedom and joy experienced by riding, tempered by a keen edge for safety, who would think you could fall asleep while riding your motorcycle?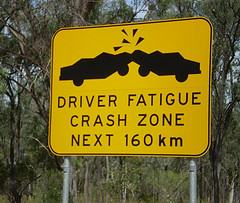 It happens. And not just to Iron Butt riders. Long distance riding of any sort, particularly when you're not prepared for it or are starting at a fatigue disadvantage can be very tiring.
It's insidious and you don't notice it when you're cruising along. But when you need to draw on brain or physical power to initiate skills and they're not there, it could be too late.
These early warning signs tell you it's time to pull over and rest. Coming from actual rider experience, all and any can happen, some more obvious than others.  Learn to recognize them and pay attention.  You don't want to wake up as you're heading through a ditch.  Or worse.
Losing concentration.
Repeatedly leaving your turn-indicator on. (Doesn't apply if you have self-cancelling signals.)
Drifting out of your lane.
Hitting rumble strips.
Swerving.
Drowsiness.
Forgetting to put your foot down at a stop.
Losing your balance at a stop.
Missing road signs.
Missing exits.
Misjudging stopping distance.
Misjudging speed approaching a curve.
Yawning excessively.
Reacting slowly.
Nodding off.
Seeing double.
Dismounting and forgetting to put the side stand down.
Difficulty maintaining a consistent speed (excepting cruise control)
Experiencing sore or tired eyes
Blinking frequently.
Feeling irritable. (If you're irritable when riding a bike, something is really wrong.)
Feeling restless.
Forgetting where you are.
Forgetting the last twenty miles.
Experiencing difficulty focusing.
Daydreaming persistently.