Embracing Active Stillness
by Liz Jansen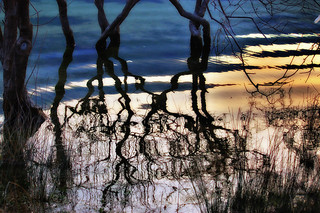 As winter, snow, and arctic air has forced many of us inside, so too have I been led to introspection and questioning how I got to where I am. Since my accident four months ago, I've been frustrated with a lack of clarity in how I move forward. I've come to a greater knowing that finding the answer requires stillness but I'm still grappling with understanding exactly what stillness means.
I've realized I was ill prepared for the spiritual "mechanics" of my journey. The motorcycle, technical, and travel portion was simple by comparison. What I wasn't prepared for was how to go about the main purpose of the trip – i.e. learning from indigenous wisdomkeepers who we are before we're shaped by our culture, and how we can live in harmony and balance with the earth and each other. I forged ahead blindly, confident that I'd be guided in the right direction and to the right people. I was even prepared that for a circuitous path with a few U-turns.
Although I'm temporarily sidelined, my "assignment" hasn't changed. It's become very clear however, that I have to go about it differently. I approached the quest through my own filters, without realizing what I was getting into, what was being asked of me, or how best to go about it.
There's only one way to get back on course, and that's to listen with intent. That requires stillness. Real stillness. While stillness and slowing down are two different concepts, I need to slow down to learn stillness and make it an entrenched behavior. And that gives me the shakes.
My natural inclination is to stay busy, working on a number of projects at the same time. So many in fact that I don't always finish them before moving on to the next exciting adventure. It's lots of fun, but I'm not being as effective as I could be, were I even a little more disciplined. It is however an ingrained pattern and as counterproductive as it is, I'm very comfortable with it.
When I set out on my trip, I intended to live and continue working from the road, knowing full well that finding my stride would take a period of adjustment—knowing on a mental and physical level, but not understanding it from an energy perspective. Three weeks into my quest, it was already apparent that a major adjustment was necessary because there was no way I could do justice to everything on my agenda.
When I got back to Ontario, I again figured I'd get back to coaching, writing, offering webinars, online courses, continuing my podcast, all while recovering from a major assault on my being. What was I thinking?
Back to stillness. This isn't the kind of habit achieved through daily meditation, which I practice, although meditation helps. It's also not becoming immobile, because that doesn't get us anywhere except rusty. It's not about becoming inactive either, which only leads to stiffness and atrophy.
The kind of stillness I'm talking about involves stilling the will. It's being open to guidance from Spirit. It's a deliberate act of letting go of personal agendas, intentions, attachments, and desires. SCARY stuff.
To learn stillness I'm backing off on new projects and finishing those already in the works while I wait for clarity. I'm slowing down to a relative crawl for the next two months, although even committing to slowing down for a specific time is shortsighted. How do I know where Spirit is going to lead? For someone who's self-employed and likes to be on the move, this is very uncomfortable. But as long as I think I have all the answers or let fear fuel me, I'm only creating resistance, blocking Spirit, and sabotaging my progress—and recovery. I have NO desire to repeat this lesson.
As Laura Klock likes to remind us, "The blessings are in the detours." Who knows what the future holds for my work, my riding, and me? I do know that I'm excited to see where this Road leads, because I know the adventures—and the blessings—will continue. Thanks for sharing it and evolving with me.
photo credit: Theophilos via photopin cc
[ois skin="3″]