17 Checks for the Right Motorcycle for Me
by Liz Jansen
Much to both my chagrin and delight, I find myself in the market for a motorcycle. I can have only one, and with so many choices, it's hard to come up with the one that's best for me.
I shopped for two years before purchasing my last bike, but when I finally found my Yamaha Super Ténéré, I knew we were right for each other. Now circumstances have changed and it's time for something different.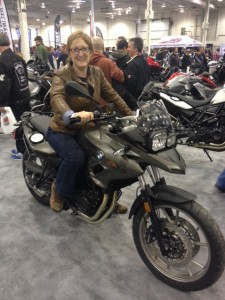 It's important to make a rational purchasing decision rather than one based on emotion. Otherwise you end up trading in that beautiful purple bike because it's uncomfortable to ride for more than an hour.
Here's the criteria I use to make my decision. They can be used for riders of any skill level and any discipline of riding.
Skill level. Buy the bike that suits your skill level, NOT one you can grow into. This is a recipe for disaster. At best it's stressful and uncomfortable because you're not ready to handle it.
Seat height. A skilled rider in control of his or her motorcycle places only one foot on the ground when coming to a stop. Nonetheless I don't want to have to lean over too far to do that. The seat height specified by the manufacturer is a good guideline, but not definitive. You can sit on two bikes with the same seat height, but varying widths and shapes will make one comfortable and with the ground in easy reach, and the other seem too high. I'm not a fan of altering the suspension, unless it's factory lowered, but I would reduce seat height by swapping in a customized seat, or carving out padding—a less preferred alternative.
Weight. More importantly, weight distribution. A heavy bike with a low centre of gravity can be easier to manage than a lighter bike with the weight up high. In any case, think about how you'll manage moving a loaded bike around in a parking spot, your garage, or a camping site.
Body position. I travel long distances and enjoy back roads and gravel. Consequently I want a more upright riding position and pegs I can stand up on. I like to have both elbows slightly flexed when my hands are on the bars. Given my shoulder injury, I may have to reduce the reach or change the position. Usually this is easily done by pivoting the bars in their position, adding risers, or changing bars.
Riding style. Do you want a bike for commuting, touring, off-roading, or cruising? Do you carry a passenger regularly? Generally it's a mix, although one will predominate. Pick the one that will work for you most of the time.
Luggage capacity. There's not much difference between the amount of gear you need for a week or a year. I still want to be able to work from the road and live comfortably, even if it is from a tent, so I'm going to make sure my bike can carry electronics, tools, gear and clothes for three seasons—and keep everything dry.
Maintenance costs. I want to know what I can do myself, how frequently I have to take it in, and how long I have to wait for routine parts. Two years ago I had my bike apart to check valve clearances and then discovered that the valve cover seals were backordered for three weeks (across North America). You can't ride without them so I was sidelined in prime riding season.
Complexity. Most new bikes are highly technical, which can make them harder to work on yourself. Other than a few essentials which improve safety, like ABS, I want as them as simple as possible. I don't want to have to dismantle a bike to get at the oil filter.
Dealerships. I do as much ofmy own work as possible, but my bike still needs to go in for warranty work and more complex maintenance. Proximity to a dealer is important, especially if I need to leave it there.

Yamaha FJ09

Rider reviews. Unless it's a new model, talk to others who've had that bike and ask them about their experience, preferably for a long period of time. Bear in mind you may have to filter out bias from riding styles, care practices, and knowledge level, but that feedback will give you a good barometer.
Media reviews. These are another excellent resource, but generally they cover only new models tested in controlled settings over a short period of time. Still it's another data point to help make an informed decision.
Fuel economy and range. Important to know for any riding, it's even more crucial for remote travel. It can also affect group riding if everyone else has to stop for you to fill up.
Accessories. Most bikes have a plethora of after-market accessories to customize the bike according to your preferences, although it can take time for parts for new models to reach the market.
Price. Sticker value is certainly a consideration, but look at the whole picture. Think about anything you'll want to make it right for you—replacing stock items, modifications, and accessories. Also consider how your riding interests may change, maintenance costs, storage, insurance, fuel requirements, and maintenance schedules.
Resale value. This isn't a big consideration for me because I generally keep my bikes for many years. If you're someone who likes to change things up regularly, this will be a factor.
Test ride it. Most manufacturers offer demo days through local dealerships or a variety of events around the country. Watch for them and go for a ride. It's not always possible to test used bikes, which makes rider and media reviews that much more important.
Gut check. Perhaps my most important criteria, I always check in with my intuition. One of the bikes I'm considering (not pictured) is logically a good choice, but it just doesn't feel right when I sit on it. I have to do more research, but even if it looks right on paper I won't get it if it doesn't feel right.
Buy the bike you know is right for you, not the bike someone else tells you is right for you. There's too much at stake to make anything other than the best choice for YOU.
One of these bikes may be the best motorcycle for me. They're the top contenders right now. As I heal, I'll have a better idea of my riding needs and in a position to make the best decision. In the mean time, I'll be researching, going for test rides, and making that tough choice!
[ois skin="3″]