Unearthing the Stories of the Land
My search to understand stories of the land has so far raised more questions than revealed answers. My interest lies in the farmland of Namaka, southern Alberta, which became home to a young Mennonite boy between 1930 to 1937. two months before his passing, my 91-year-old father brought me back here. Standing on the Range Road looking east, the grain fields and stories extend beyond the horizon. The peacefulness belies their place at a political, cultural, and environmental epicenter a century ago. Here, in the 1920s, three disparate cultures, Mennonite, Blackfoot, and British, came together.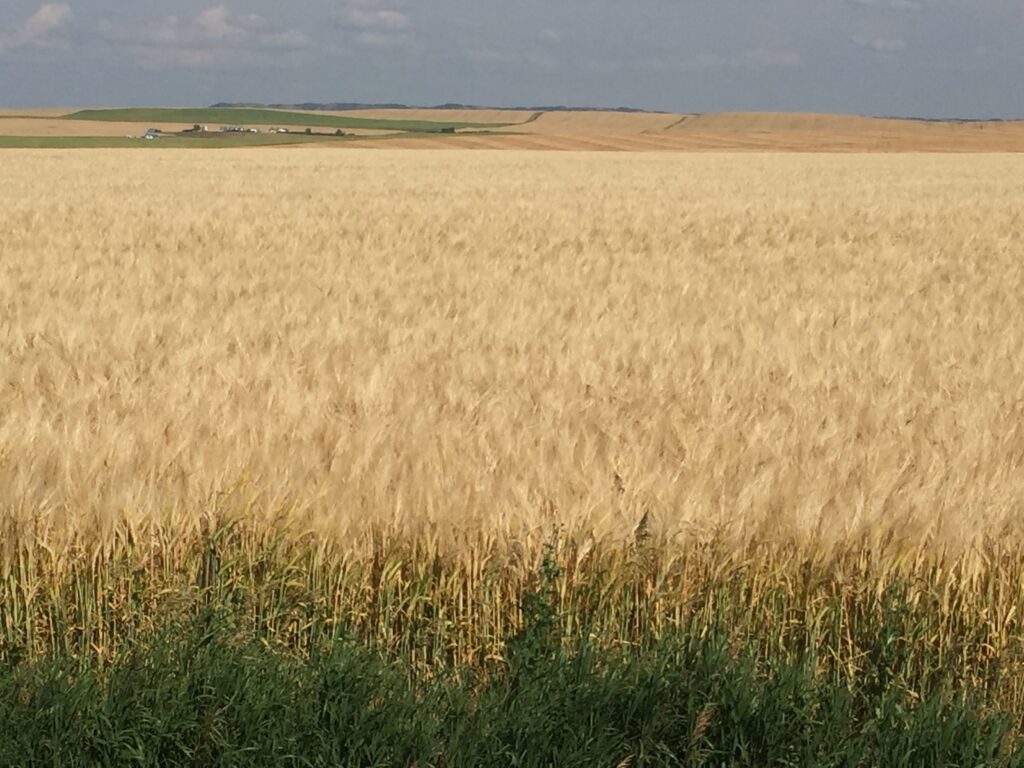 My Master's thesis revisits this history. It seeks to understand how my ancestors related to the lands they shared and those they shared it with—human and non-human. It searches for ways to apply their wisdom to intercultural and ecological relationships today.
Mutually Beneficial Needs
On the surface, the story seems innocuous. In the 1920s, the Canadian government, in coordination with the Canadian Pacific Railway (CPR), was seeking settlers. They saw the enormous economic potential from agricultural development by the right immigrants on what they saw unlimited "empty" land. The CPR, who owned vast tracts along their route, could generate revenue through land sales.The  CPR also needed to generate revenue from their trains, ships, and hotels. At the same time, twenty thousand German-speaking Mennonites, renowned agriculturalists in imperial Russia, were in urgent need of a new home. After surviving revolution and years of civil war, epidemics, economic collapse, and famine, they had won authorization to emigrate. Placing Mennonites on that Alberta farmland via CPR transportation seemed like a no-brainer.
One does not need to dig deep to find evidence of a turbulence, or the reasons behind it. In 1919, the Canadian government passed an Order-in-Council which forbade Mennonite immigration. They were coming from a now-communist country and spoke German, the language of a bitter WWI enemy. Manitoba Mennonites who had arrived from Russia in the 1870s were resisting Canadian education laws, which contravened their settlement agreement. A change in government saw the Order repealed in 1922 and allowed my grandparents to arrive soon after.
Namaka History
The land which became Namaka Farm carried a storied financial legacy. American George Lane, rancher and in 1913, Canadian politician, was a key player in the colonization of southern Alberta. Before the turn of the century, he had begun buying vast tracts of land from the CPR. Lane died in 1925, leaving the Dominion Bank to manage his holdings. Following intense negotiations, the 13,000-acre Namaka Ranch was divided into quarter sections (160 acres) and "sold" to Mennonite families in 1929. The eastern boundary lay next to the Siksika Blackfoot reservation.
Public sentiment had remained against Mennonites. To be fair, emotions remained high after World War I and people based opinions on inaccurate information. Also, others were trying to become established on this "empty" land. The United Farmers of Alberta (UFA), ran a blatantly classist column in their newspaper on April 6, 1927, entitled "Why Colonization Company Prefer Settlers on Land Whose Wants Are Few: And Why the Farmers and Farm Women Must Stand Together as a Class to Prevent Their Industry Sinking to Peasant Level." The article claimed it was not "belittling the Mennonites," but feared their presence would sink all farmers to their "peasant level." The UFA advocated for recruitment of more British and American settlers.
Blackfoot
For eons before the arrival of Anglo farmers and Mennonites, this "empty" land had been home to the Blackfoot peoples. After signing Treaty 7 in 1877 they were moved onto reserves. Bison, a prime source of food and clothing, were gone. Their traditional lands and way of life were gone. While I do not yet know what conditions were like at Siksika, there is no reason to believe they differed from the experiences of other First Nations groups. Promises made by the Canadian Government under John A. MacDonald to help them get established in agriculture on reserves failed to materialize. Starvation left them susceptible to communicable diseases. Inadequate government rations acted as a cruel means of control.
Into this milleu arrived Mennonite immigrants in need of a home. They were destitute and indebted, but others had negotiated a start for them. Still, it was not an easy transition. They may have been expert farmers in imperial Russia, but they soon learned that Namaka soil, climate, and topography required different implements and farming methods than those they were familiar with. Although bumper crops and high prices had immediately preceded their arrival, they soon faced a prolonged Dust Bowl and the Dirty Thirties economic depression.
Namaka in the 1920s
Dad spoke of his time in Namaka with fondness and reverence. The relationships he formed between ages four and eleven produced life-long friendships. Sure, they were very poor, he used to say, but so was everyone around them. He spoke of harmonious relations with his neighbours—other Mennonites, the Blackfoot, and those they called the "English," i.e., anyone else. Other documented evidence from multiple sources supports this.
My research has only scratched the surface. I wonder about the nature of the interactions between these disparate groups. Were the Mennonites aware of the animosity directed at them? How widespread was it? Did they know about the inhumane treatment directed at the Blackfoot? Were they aware of their deplorable living conditions condoned by the Canadian government?
Today, the land shows no evidence of this turmoil. The stories of the land are there, though, just beneath the surface. Further research will unearth their voices. They have lessons for all of us.
Related article: Back to the Books: Ukrainian Steppe to Alberta Prairies