Anatomy of an Accident
by Liz Jansen
I jumped out from under my crippled motorcycle, now resting on its left side, engine running, and headlights peering at me from an unusual orientation. In an instant, my life had changed forever.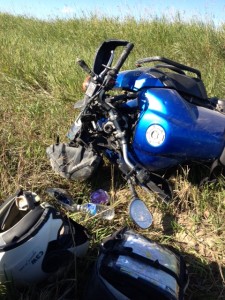 Wednesday, August 27, 2014 was to have been my last day in Canada for a while. I'm still here. Three weeks into what I expected to be at least a year on the road, I crashed in rural Alberta, putting an end to my motorcycle, sustaining a severe shoulder injury, and crimping my plans. My plan of meeting with Native American elders and wisdom keepers, learning through indigenous wisdom about the effect of culture in shaping us, was interrupted. I wanted to better understand who we are before we're told who we are, and how we can live in better balance with our true nature, the earth, and all life on it.
It was a picture perfect late summer morning and I had two destinations for the day: Blackfoot Crossing, an interpretive center near Gleichen and Namaka, where in the late 20's and early 30's, my dad spent his childhood on a farm abutting Blackfoot territory. Once a bustling railway spur, it's now known only by way of stories passed down through the generations.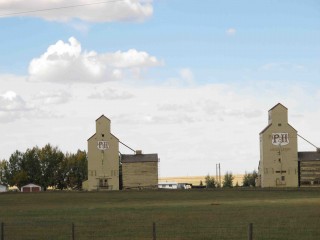 Blackfoot Crossing was about 90 minutes from my campsite in Okotoks and I was looking forward to a casual morning ride across the prairie landscape. Two-thirds of the way there, a sign advised me that ahead of me, the bridge over the Bow River was out. There was also a sign limiting truck capacity on the road, but I misread it, understanding that only truck traffic was restricted on the bridge. Until I got there and realized the bridge was literally out, washed away by the previous year's floods.
With no other choice, I turned around, disappointed that I'd have to retrace my route. Then I spotted a crossroad, heading east out of the village of Arrowwood. I could cut across country and save myself a lot of time rather than backtracking. As soon as I turned onto it, I knew it would be a challenge.
It was gravel, which I'm fine with, but not a typical gravel road. The rocks were an inch and a half round, in a deep bed with no tire tracks. What to do? I attributed that voice telling me to turn around to irrational fear. After all, I had the skills and the bike to do it, and if I were confronted with this in Central or South America, I'd have to go. So best get on with it.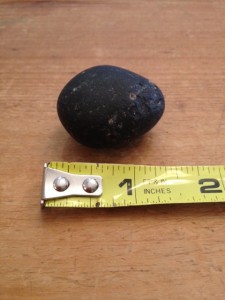 I stood up on the pegs and kept my eyes as far ahead as possible, which was pretty far on the flat prairie. My front tire wobbled around a lot but I'd expected that, and kept steady on the throttle, increasing at times to lighten the front end. I was terrified. So much so, that I didn't look to either side to see side roads as I passed them. They were gravel but hard packed and rutted— and a far better alternative to what I was on.
Occasional trucks would approach from the opposite direction, spewing clouds of dust and obscuring my vision, but my gaze stayed steady on the road ahead. Another issue was that every time I increased speed to control the front wheel, I didn't slow down afterward, afraid of making the front wheel dig in. That worked for about 12 miles, until I got to a sharp right hand turn. I was approaching too quickly and my front wheel was wobbling like crazy. Knowing this wasn't going to end well, I did the best I could.
The front end of the bike hit the ground on the right side scraping the engine guards and kinking the handlebars, (this is the only part I don't remember) before we bounced up and over, landing on the left side and sliding across and down the road, coming to rest down a slight grade, almost through the corner.
I jumped up, quickly hit the kill switch, and surveyed the scene. My tank bag had held tight but my left pannier had been torn off and tossed away. A mirror and the windscreen were missing, smashed and scattered on the road above me, and those headlights were staring back at me. My arm didn't hurt if I didn't move it but I could feel something was drastically wrong. I desperately wanted to get my helmet off but couldn't manage it by myself.
Above all, I knew in an instant, my route had changed.
Two vehicles passed me, one in each direction. I couldn't let the next one get by. I saw the white pick up approaching, scrambled up to the road and hailed him down. Jim, the driver, was my Good Samaritan. The first thing that needed doing was to get my helmet off. With one arm dangling in my sleeve and my other hand injured, I couldn't do it alone. Thankfully, my Schuberth helmet was easy to remove and with a few simple instructions to Jim, it was off.
Amazingly, except for a minor friction burn on my left hip under my jacket and pants, there were no other injuries. My BMW gear had done its job. The TourShell suit was scuffed but not torn or abraded. The boots and gloves looked untouched. The AltRider engine guards, installed just before I left, created a space between the ground and my bike, saving my legs.
It didn't occur to me to call an ambulance. I knew it would take ages to arrive and my intuition was pushing me to get to the hospital. Thank God for Jim. A self-employed contractor, he'd lived in the area his entire life and was on his way to a job when his day changed. He offered to take me to one of two small hospitals within 20-30 minutes, or to Calgary, 90 minutes away. Again, I listened to my intuition. I wanted to go where the specialists were. Doctors later told me that had I gone to one of the smaller hospitals, I would likely have waited 2-3 days for a transfer, while my fracture deteriorated to the point where a shoulder replacement and even more extensive surgery would have been necessary.
We didn't leave before I gathered the personal items I'd brought with me that morning. Being a writer, I also wanted to have a photo of the scene—not an easy task given my status, and Jim didn't know how to use an iPhone. So I captured what I could.
During the drive to the hospital, we called the RCMP to advise them what the bike was doing in the ditch, should someone report it. I also called TD Insurance, who covered my bike, to advise them of my accident. They have been absolutely terrific the whole time. Lastly, I emailed the only person I could think of in Calgary for help getting my bike towed to the bike shop. I'd just met John Colyer the week before in British Columbia at the Horizons Unlimited event, and he was a fellow adventure rider. Then I sat back for the rest of the ride in to the hospital.
To this day, I don't know how I managed to organize everything, except that a Higher Power was guiding me. Although I thought that I was thinking pretty clearly, I got done what needed doing, but I realized later I was actually in shock and on automatic pilot.
At no point have I been angry about this accident. As soon as it happened, I knew I had a new reality to deal with and there was no point in anger. The only thing to do was focus on getting better, moving forward from that point, and back on the road.
So many positive things happened right away. In spite of being "alone" in rural Alberta, help was there immediately. I was taken to the best hospital and operated on the next day by a top shoulder trauma surgeon. Medical coverage between Ontario and Alberta was seamless so I had no concerns re medical bills. I had a private room in a brand new hospital, with a view of the Rocky Mountains. While I was in triage, Jim waited for John to arrive and spell him off. John not only arranged to get my bike out of the RCMP impound and trailered it to Calgary, he also went to my campsite, packed up my tent and clothing and brought it to me. And he and his mom opened their home to me so I could convalesce for a few weeks before making the trek back to Ontario.
The odd person has asked "what if…" What if no one had come along? What if I was more seriously injured and couldn't reach the road? What if this had happened in a third world country where they didn't speak English? And so on and so forth.
We could "what-if" this to death. The reality is, that none of those things happened, so why give them energy? Life is not predictable. I follow the call of my heart, but I also plan, train, and prepare. We never know what's around the corner, even if we think we do.
I also haven't spent time dissecting why this happened. Maybe there was a reason, maybe there wasn't. And if there was, maybe it will become apparent, maybe it won't. The second most important thing for me is accepting that I'm operating from a new reality, and moving forward from there. Most important is being grateful for being protected and cared for to the extent that I was. And for the tremendous support I've received from so many of you.
While I knew it would take time to heal my physical wounds, I believed I could do that while continuing to work a reduced schedule. I'm only now beginning to realize how life-changing this event has been, and to learn the lessons it's teaching me. As much as we're a physical body, we're also an emotional, mental and spiritual being. One part can't take a hit without the rest being affected. And we don't heal by focusing on just one part of our being.
Almost all of you have dealt with major traumatic events, if not personally, then with someone close to you. Many of them are far more traumatic and life altering than what happened to me. Nonetheless, it is changing my perspective, priorities, and the way I view many things, including what I set out to do.
I will continue to share with you as that evolves.
[ois skin="3″]