Father's Day Tribute 2014
by Liz Jansen
Written for Father's Day last year, the memories from the farm where my parents spent most of their life, are still vivid. They've further downsized into an assisted living apartment, and the car is now in underground parking. Dad turned 88 this spring and got the legal nod to drive for another two years. He just returned from a fishing trip in remote Northern Ontario with his cronies and other than falling into the boat, he fared pretty well. He's been very vague though on how many fish were caught. 
I looked up the hill on the road to see a familiar figure walking towards me. An old man, bundled up against the late November chill, he was at home in a heavy flannel jacket under green coveralls, red and black checkered wool cap with ear flaps down and work boots.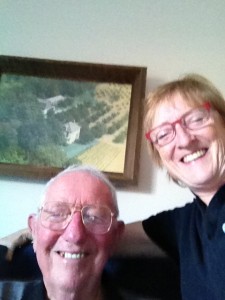 On what was to be my parents' next to last year on their cherished farm, I had stopped for the night, before heading to Georgia to spend Thanksgiving with my adopted family, the Sunde's.
As always, upon arrival the night before, dad had cleared a space in the barn for my motorcycle and opened the massive door to let me ride in.
Although the car always had priority parking in its own garage, he would move vehicles and farm equipment out of the way if necessary to make room for my bike in the barn.
Out we went, bright and early so dad could open that door to let me out and I could be on my way.
Expecting my bike to fire up as always, I was disappointed to find the battery had chosen that morning to die. It was getting old, I'd had my electric jacket and gloves on high during the trip down and it had just spent the night in a cold barn, so it was understandable. Done.
Always the optimist, I figured a bump start was the easiest and best first option. Loaded for cold-weather travel, the bike was too heavy to push, although an 84-year-old man had to be dissuaded from trying.
After stripping it down and giving it a few futile attempts in the long driveway, I was sure that if I could get it to the hill just at the road, it had a long enough stretch that I could get up a good head of steam; enough to get it started. Dad helped push me out to the road. I was wrong.
Anticipating it would start, I'd loaded it again so I could keep going. But there I sat at the bottom of the hill. And there came dad, trudging down the hill to help. It's a sight that's indelibly etched in my memory.
He offered to get the tractor to boost or tow or whatever he could do. Fortunately, it didn't take long for two guys in a truck carrying a generator to stop, boost the battery and give it enough of a charge to get me to Clare's Cycle for a replacement.
Dad couldn't believe the good fortune and was teary-eyed by the kindness of strangers.
The whole experience was incredibly touching. It's been a hard life on the farm for them. But he was always there to lend a hand, to family or strangers. Even better if it involved his Ford tractor.
Except now that they've moved to a home with only a single car garage, I no longer get preferred parking.
Thank you dad. I love you.