9 Tips for Finding Your Tribe
Everyone belongs to a tribe somewhere. These are the people with common interests and values who inspire us, energize us, help us grow – and lend a hand when we need it.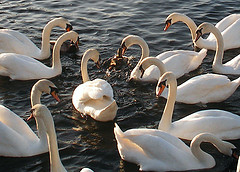 Scientific data has shown that finding your tribe is better for your health than vitamins, diet and exercise. Other studies have shown people who socially interact together, outlive their reclusive peers by an average of two-and-a-half years!  So not only is it fun, it's healthy! Do Something That Scares You
The motorcycling community exemplifies the power and benefit of belonging to a tribe. Most new riders marvel at the instant–and lifelong–bond, camaraderie and compassion amongst riders.
The importance of tribe has been passed down through the generations, as illustrated in Walt Disney's classic tale of the Ugly Duckling. Born into the wrong tribe, the little duckling thought he was ugly, unwanted and a misfit. Discouraged and dejected, he set out searching for his tribe. Turns out, he was a handsome swan, destined for king of the pond. Watch the video –  Walt Disney's Ugly Duckling.
9 Tips for Finding your Tribe
Be yourself. Who you present to the world is who you will attract. Be who you are, not who you think others want you to be. Simple as it sounds, it requires great courage. If you're not going to be yourself, don't bother going any further down the list.
Seek those with qualities you value.  For example, you may feel most at home in a tribe where each member respects others, is non-judgmental, loves adventure, lives by their own compass, is compassionate and trustworthy. On a motorcycle, you'll naturally gravitate to those who share the same interest in riding, like touring, off-road adventures or Sunday cruises.
Engage in activities of mutual interest. Motorcycling is a perfect example of an interest around which a tribe forms. Many other interests will do the same thing–whether it's scrapbooking, hiking or yoga.
Trust your intuition. When meeting new people, sometimes you'll be drawn together right away. Other times you'll meet people who make you wary. Even if you don't understand the reason, pay attention to your intuition. It never steers you wrong.
Show Courage.  When you're feeling vulnerable and alone, reach out to others you trust.  What's the worst that can happen?  Like the ugly duckling , you may have a few false starts but persistence will pay off.
Realize not everyone likes you. Hard to believe I know. Focus on those that do.  This is where you'll find your tribe.  Leave those who are indifferent or dislike you for someone else.
Look for events. I often hear others, especially women riders, lament that they can't find others to ride with. They don't just gravitate your way. You need to take action and show Spirit you're serious and willing to do your part. Whether it's through social networking, online forums or the community bulletin board in the grocery store, keep an eye out for events that attract the people you're looking for.
Start something. If you can't find an event or activity already in existence, take the lead and start something. Then promote it through social networking and the community bulletin board in the grocery store.
Choose wisely. Spend time with those who nurture, energize and inspire – and help you achieve your goals. Respectfully detach from those who drain your batteries. They belong to a different tribe.
With belonging comes responsibility. Just as others support you, so too must you offer your support to them.
When you find your clan, you'll discover a common bond from which you not only derive strength as an individual but also gather that strength to increase the cohesiveness of the community as a whole.
Related Posts:
photo credit: Liamfm . ** stop the war in Syria and Gaza via photopin cc