First Day of School—Again!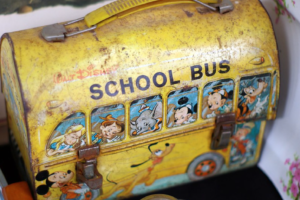 It's been a few years since I looked forward to my first day of school. I'd dressed up in one of two new dresses Mom had sewn for me using the same pattern, but different fabric and trim. Somehow, she'd found time and energy to make them after she'd managed the barn work all day—sorting and packing peaches and helping Dad get the day's harvest off to market.
This week I returned to the University of Waterloo and a fulltime course load. I didn't have new dresses but I was just as eager to dig in as I was on that day so long ago when I started at Woodland Public School. This term I'll be exploring Anthropology, Cultural Identity, and German Folklore and Mythology—all relevant to future studies. This is the first time I've been to university full time and there's a steep learning curve for the technology and culture. I'm confident I'll be successful but already it's changed my lifestyle. I had to return from my riding to get ready for school!
This year my moto travels took me east to Quebec's Gaspé Peninsula. This rugged land, surrounded by the Gulf of St. Lawrence and the Atlantic Ocean has been relatively untouched by humans. The first Mi'kmaq settled here 3,000 years ago, before the first Europeans arrived 500 years ago.
As you travel east past Montreal and Quebec City, the Appalachians rise from the ocean. Formed roughly 480 million years ago by volcanic activity the ancient exposed rock helps the land retain its wild character. The road took me along the coastline where I could observe sea, sun, sky, and wind—all the elements. Formations of birds skimmed the surface feeding off insects hovering just above the water. Endless ocean on my left, rock beneath me, mountains and forests on my right. I felt as if I could close my eyes and disappear but I was riding Trudy so it was prudent to pay attention. It was as if in a sacred dream, another dimension, watching nature be, going through the cycles as it has for those millions of years, doing quite well without human interference.
And now I've entered what seems like another dimension than what I'm used to. It will certainly challenge me but it's my soul's calling I accepted without hesitation and I know I'll have all the resources and support I need. Already there's been plenty of evidence of that.
We're part of nature as surely as are all the other beings I observing during my time on the Gaspé. How do we live as part of that natural cycle? This is what I'm curious about and what I intend to explore in my studies. Where were my ancestors indigenous 5,000 or 10,000 years ago? What do they have to teach me about living today? How can I share those teachings?
Getting into that level of detail won't happen until my Master's studies begin next year. First, I need to complete the fourth year of an Honors Degree, which marks the completion of another cycle. When I earned my three-year BA in 1986. I was as unfulfilled in my work as I was in my personal life and wandering aimlessly through life. It gives me a great sense of fulfillment to complete that Honors Degree now with subjects that have called to me.
Mom's not getting me ready for my first day of school any more, but I did visit her on the eve of my first day back. As I fed her and later tucked her into bed, I told her I was going back to school. She and Dad always valued education. More than that, they had the courage to follow their hearts and back it up with action. Those lessons have't changed. The dresses are long gone, probably donated to a thrift store, yet she continues to inspire me with her assurance, trust, and acceptance, even when words fail.
Photo credit: fortinbras on Visualhunt