16 Winter-Weary Riders Talk About Their First Ride of 2013
Think Spring was the theme of a mid-March chat on Motorcycle Mojo Magazine's FaceBook page.
We asked fans, "Where was/is your first ride of 2013?"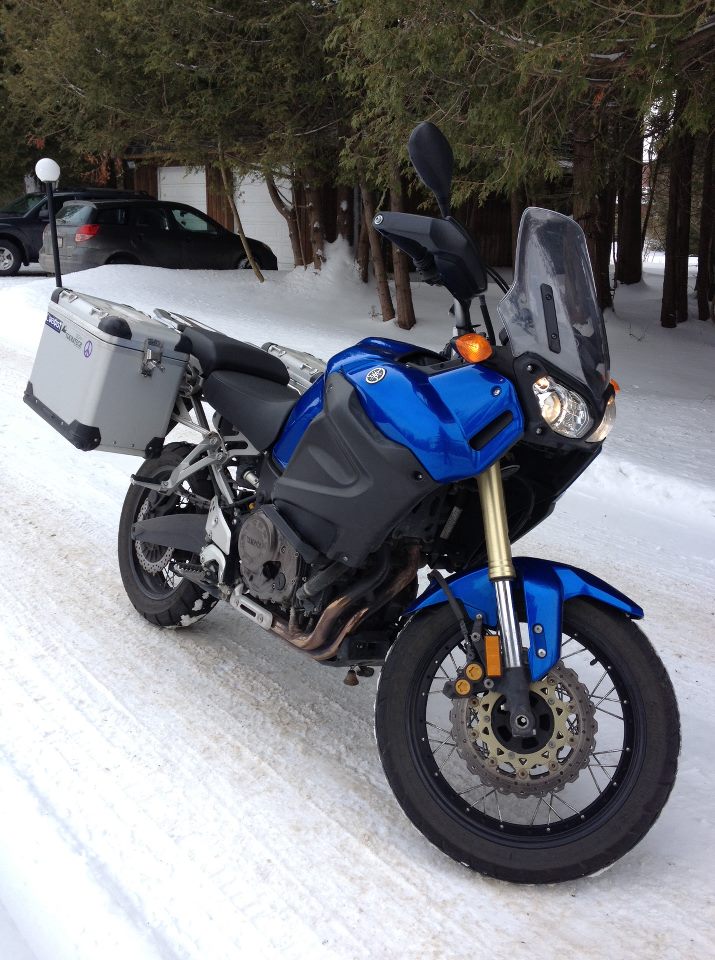 For the record, mine was on February 26, the day this photo of my bike was taken in my driveway. We rode 300 km round trip for new tires, hoping for an early spring. 2nd ride of the season is today, to parts unknown!
16 winter-weary riders talk about their first ride of 2013
Noel H. Mine won't be until mid April. Likely to Kamloops for a service and checkup. (from 150 Mile House)
Ursula B. my first ride this year was around Vasey road , between Coldwater and Wasaga , close just in case of any sudden weather changes!!!
Grant G. 14 Km's riding around Port Dover last weekend…. Minus 1, so a bit cool to take her out on the hiway….. Pretty much open water now….
Tim D. Mine was out March 5th last year, with all the snow April 1 will be lucky, Maybe to Kenora for a coffee
Ursula B. Hey , I know it is not as cold as riding a snowmobile all day! It is much nicer!
Brenda B. Won't likely get out until mid -late April (if lucky) and then only ride to work and back about 30kms.
Darren M. along the Bay of Fundy towards Alma
Rudedog D. I never really stopped riding my Harley . There was 1 week we had snow in jersey but other than that …..still riding .
Duane R. Blessed to ride year round.
Darlene D. Commuting for the most part but have gone up Island a few times over the Malahat it was gorgeous and refreshed my spirit.
John T. just did 2800kms in Florida with mine, and Daytona Bike Week!
Ron M. Still rather much like winter here yet, hoping to put the plates on in April.
Roni C. We live in Sudbury… we got out for an hour of riding in January… just so that we could say we were out and to grab a coffee on one of the rare sunny days we had this winter!
Cory D. A run up to and around Calabogie.
Mike S. I wish I was a little younger!
Tom N. Never stopped except for a week in Feb.

Where was your first ride of the season and where have you been since?