The Fifth and Almost Forgotten Grace
by Liz Jansen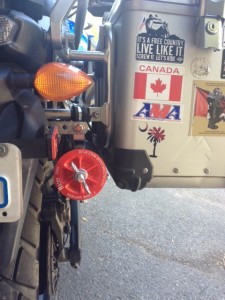 Last week's post on The Four Graces barely hit the cyberwaves when I was reminded that there was a fifth forgotten grace. No make matters even worse, this grace chronologically preceded the others: the grace of the tool tube.
As you can imagine, storage space is at a premium when packing for a long distance expedition. I was preparing to be away for at least a year, traveling in remote areas in foreign countries, so it was prudent to take a few tools (beyond those in the bike's tool kit) to do basic maintenance and deal with the minor repairs.
Quality tools, no matter how compact, still add weight and bulk, so you want to carry them as close to the bike's midline and as low as possible. Ideally they're not used too often so you don't want them taking up prime real estate in your luggage. In devising a solution, some genius came up with the concept of the tool tube.
And my friend offered to construct one for me. It became a fun project involving a few friends, camaraderie, pizza, and a couple of trips to Rona for supplies. I rode away that evening with a uniquely customized and securely installed tool tube.
Not only was it a functional, it was also a conversation piece—the red cap said "Caution. Stand back while in use." But most of all, it carried memories of wonderful friends, kindness, and laughter—all of which stayed with me every mile. It even took the hit and protected its contents during the crash.
And the forgotten grace? The construction took place on Grace Street. How apt for the beginning of its special journey.
[ois skin="3″]