7 Ways to Practice Non Attachment
by Liz Jansen
To practice non attachment is to let go of the labels you've attached to yourself. It's about remaining grounded and centered, working from that place of power that is you, rather than the roles you've bought into.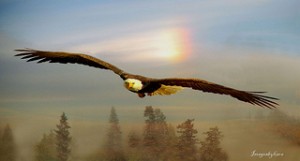 The stories we've told ourselves, limit who we are and stifle our identity. When we can let go of them and become self-referencing, we no longer need a label to tell us who we are. Practicing nonattachment is tremendously liberating. Once you let go of your preconceived notions of who you are and stop looking for validation from others, you're free to be who you are!
Match your style to your purpose. A dirt bike looks very different than a sport bike. That's because they're built for different purposes. Brands, roles or characters you take on, are the external representation of your inner self. They reflect your values, perspectives and interests. Although you may try, you cannot be all things to all people. Listen to your heart, follow your passion and do the thing you're here to do.
Beware of branding traps. Just like preconceived notions can lead you to misjudge the appropriateness of a motorcycle, so too can you misjudge others – and yourself.
Drop the drama. Motorcycles are objective. They are who they are, without being influenced by opinions of others. List the roles you've attached to yourself or have been attached to you. See them as characters caught up in a story, but not who you are. You don't need approval from others. Just be true to yourself.
Build from the inside out. You were born into a specific setting. As you grow, gain self-awareness, understand your role and power, your lifestyle evolves accordingly to reflect who you think you are. The strongest brand is created when what you reflect externally matches who you are inside.
Know what makes you unique. Although there is some cross-pollination, motorcycles are designed for a specific purpose and type of rider. That's what attracts you to it. Do the thing only You can do. As esteemed as they are, the world doesn't need another Mother Teresa, Bill Gates or (insert your favorite person). Those roles are already taken. You have a unique purpose that only you can fill.
Meditate daily. Just as you need to get to acquaint yourself with the power of our motorcycle, so too is it wise to acquaint yourself with your own power. Use whatever format works best for you to stay centered and in touch with your inner spirit.
Learn from the experts. The entire motorcycle design is based on its purpose. The whole package is consistent and focused. That's how brands are built. Your brand is how you're defined, who you are, or more accurately, the perception of who you are. And it's one of your most valuable assets. Stay true to it!
It takes a great deal of strength and clarity to see through the characters we're trained before we're even born. It takes a even more courage to stand up for who you are. But never more courage than you have. If we each follow our inner guidance, when we drop our roles and expectations, when all of our messages come together, profound change occurs.
In The Four Insights, Dr. Alberto Villoldo draws from indigenous cultures to identify the practices that allow us to change our perception of the events that happen to us, remove the association with cause and effect and learn to live in harmony with our world. One of these is learning the practice of nonattachment.
photo credit: Karacan.S. via photopin cc
[ois skin="3″]