How to Find Your Voice — and What to Do When You Hear It
by Liz Jansen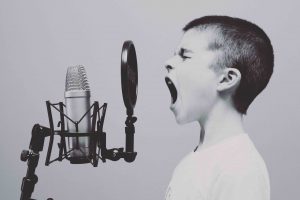 Two weeks ago inexplicable phone glitches interrupted a regular session with my spiritual teacher. During our time, the line went silent five or six times. I'd notice when my words didn't elicit a response.
She'd try calling back, only to go straight to voice mail because I had continued to talk. When I caught on and hung up, she could get through again. Then the cycle would repeat.
I don't look for meaning in every quirky event. But unmistakable messages demand attention.
The voice I needed to listen that day belonged to me.
Always hungry for knowledge, I read a lot, take courses, and seek counsel with wise teachers. All these things are valuable investments of time and energy.
They can also be a way of avoiding a persistent inner voice. No other source can deliver the message with your name on it. Slowing down and listening enables you to hear it.
It may take time to grasp the meaning but stay with it. Over time, you risk losing yourself if you don't listen and act.
In 2002, at age 48, I left a 25-year marriage. Eight months later I walked away from the stability of a corporate career. Needing time to think, I set off on a two-month solo motorcycle trip around Canada and the United States.
Many people commented on what they perceived as bravery and courage. I saw it another way. That voice had been talking to me for years, only I hadn't followed through. The roles I occupied no longer fit. To stay in them would have sounded the death knell for my spirit.
After those changes, my world opened up in ways I couldn't have imagined. I questioned why I had waited so long. Riding around the top of Lake Superior on the third day of my trip, I shouted with joy inside my helmet.
The outcomes aren't always so dramatic. They will always carry meaning and lead to other openings at some point.
Since then, I've honed my listening skills, and not just with my ears. Messages come through all our senses. Learn to recognize them.
The more we practice, the sooner we see the universe as a co-creator. It conspires to help us in unusual, often humorous ways.
Find your voice by listening. Follow its lead by summoning your courage to take the next step.
No one else can do what you came here to do.
Photo by Jason Rosewell on Unsplash