Celebrate the Return of Light with Peace
by Liz Jansen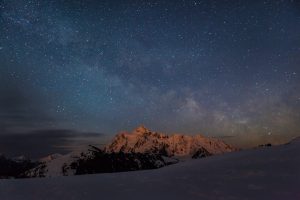 Today we celebrate the return of the light in the northern hemisphere. For tens of thousands of years, people around the world have celebrated this sacred and auspicious time.
Tonight I'll celebrate with a contemplative lantern walk in the nearby town of Elora. Our moonlit path takes us along the boardwalk and Grand River. After, we'll enjoy singing, hot cider, and merriment around a community Solstice fire.
In a few days I'll join my family in our traditional Christmas festivities. The first one without dad. I miss him. He told us before he passed that he was off to a celebration and I picture him there.
Gazing at the night sky makes me marvel at the immensity of the universe and how the cosmic laws operate with precision and reliability. It's intimate, yet vast. I feel insignificant, yet part of something so huge I can't comprehend it.
If you take a close look at this photo, you may see angels, or reindeers pulling Santa across the sky.
Many of us mark the season with feasts, festivals, and holidays—like Christmas and Hanukkah. A time of giving and receiving. It's also a time to remember those less fortunate who may not have kin to celebrate with. Or money for gifts. Or even a home. We're all in this world together.
The same Power that brings the light back, lights the stars, and moves the planets in their orbits exists in me. In each of us.
However you celebrate, may love, joy and compassion fill your season. Peace on earth and goodwill toward all.
How will you celebrate the return of light?  Tell us in the comments.
---
Additional Celebrations: FestivalsLights Around the World
Photo by Caleb Ralston on Unsplash