24 Riders Advise New Riders on Motorcycle Gear
What gear advice would you give a new rider – just starting out?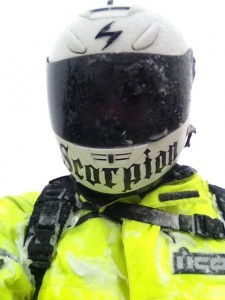 Here's how these experienced Motorcycle Mojo fans responded.
24 riders advise new riders on motorcycle gear
Kevin G. Stay comfortable but don't compromise practicality or personal safety for what someone markets as "fashionably bad-ass". Wear durable,conspicuous protective gear.
Debbie M. Wear all the gear all the time…no matter what the weather.
Mark K. ATGATT. Best helmet you can afford. Boots that cover ankles, gloves to help with fatigue, textile or leather gear with protection. I am a proponent of high vis but each his own.
Darlene D. TAKE A RIDING COURSE AND WEAR FULL GEAR HEAD TO TOE!
Karen G. If you are going someplace hot, get a helmet that is NOT black, and wear a light, long sleeve something rather than riding in a tank top in the heat. I also recommend gloves, long pants, boots for protection.
Tony M. AGAT All the gear all the time
John T. A good helmet is the best insurance you can ever buy! but don't forget about the rest of the safety gear!
Leeann C. Full face helmet, protective jacket, non laced covering ankle boots and protective gloves. I've got a great jacket. Joe Rocket Ballistic jacket that's like a 4in1 jacket that will go all the way down to mesh. You can add on waterproof top shell, wind breaker liner and "winter" liner. I just keep all my liners in my bag. Living in Canada riding at the beginning of the season can start riding at 9C, mid day 24C and back down with maybe rain. I'm always prepared.
Bruce H. Start with a machine you are comfortable driving. You can always step up later. Always better comfortable and safe on your early bike.
Kevin T. Good comfortable gear and a helmet that fits properly. Remember kids it's not a fashion show… It's your safety
Mark-John H. take the safety course!
William B. H. A good helmet and safety gear is important , but more important is to make sure that it fits and is comfortable ! I'd much rather have a dorky looking but well and comfortably fitting helmet/jacket/pants and ignore the cool looking and less comfortable stuff !
Ken C. Spend as much time as u can on a dirt bike, that's where the good riders come from.
Robert M. Wear it… And flip flops are not considered gear
Martin S. I like gear with removable liners and lots of venting. Warm enough for the ride into work and cool enough for the ride home
Suhaymath N. Do your research. Shop for motorcycle-specific items, especially when it comes to pants. I think too many people ride in regular denim and other material with zero abrasion resistance. Pad yourself as much as possible. Consider those new neck braces. Absolutely buy a FULL FACE HELMET!! Basically, don't skimp at all and keep yourself as protected as humanly possible…and then some.
Kevin D. 1. New Helmet. Good quality Jacket and gloves (new or used). Do not group ride until you have over 2000k.
Sandi S. Protective gear is obvious, but do it according to the weather too. Don't over do it on hot days, there's good stuff out there to keep you well vented so you're not getting over heated.
Rick C. helmet, boots, gloves, jacket…….
Tim M. Take courses, street , dirt , track and enjoy everyday riding
Mike P. I think there is so much focus on lids, that people forget the importance of good fitting, comfy, and safe foot wear
Alex D. Take many courses. Read books. Start on a small cc bike.
Kevin D. My instructor advised us to not group ride for first 2000k. Best advice… Best to learn road placement on your own.
Bruce A. a lid you can afford, boots (no sneakers) explain shoelaces could catch on gear selector and leather jacket or nylon (again what u can afford) and gloves…padded gloves. lid and jacket are most important as I have taken a few spills and this stuff takes the worst of the beatings! Footwear is important but never have slid on my feet off a bike. oh and good leather chaps or those jeans that have kevlar knitted in for highway runs where sliding on highway will tear most clothing to shreds within 50 feet.