Motorcycle News You Can Use: Aug. 22 – 28
by Liz Jansen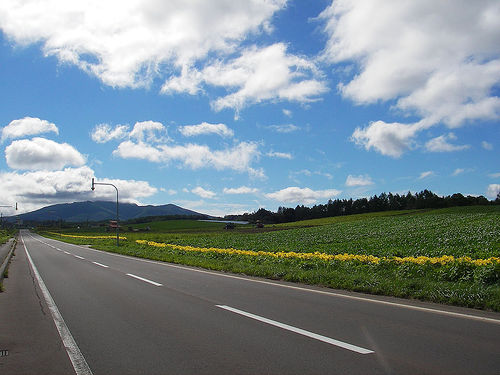 This week's Motorcycle News You Can Use blog posts focus on the common hazards we face every day and show us how to deal with them. They include making safe left turns in passing zones, smooth cornering clues, and ending the struggle with left or right turns, whichever is harder for you.
Safety begins even before you get on the bike so that's why articles about how to select the right motorcycle for you are SO important. Everybody's got an opinion, but ultimately, your intuition will steer you to the right one. Don't be talked into something you don't feel is right for you. There's too much at stake.
Enjoy!
---
Genevieve Schmitt, Women Riders Now
"This is one of the most important articles I've ever written as it could save a life. I wish it could have saved two lives I know that were lost as a result of this tricky traffic pattern that happens in mostly rural areas.
Often we feel the urge on our motorcycles to keep up with the group or maybe just the rider in front of us. This can get us into trouble. We're so focused on staying together that we momentarily get distracted from the road and our defensive driving skills disappear. This happens a lot when in a passing zone, when one rider decides to pass on a rural two-lane road. If you find yourself in a rural area while riding, with a group, or without, please heed this advice."
---
Keith Code, Motorcyclist Mag
"Scores of riders have sheepishly questioned me about a particularly perplexing problem: why they struggle more making either right or left turns. It turns out that many riders have this fear, and it's frustrating. Imagine that half your turns are hampered by an unknown, seemingly unapproachable anxiety having no apparent source and no apparent reasoning behind it. Imagine you feared right turns and you lived in Nebraska where the only curves were highway cloverleafs? Or you were a dirt-track racer who couldn't turn left?"
---
Amos, Ride Apart
"Upgrading to a new bike or adding one to your growing stable is enough to keep you up at night (in a good way, of course), and if you're anything like us, you put together spreadsheets, put stacks of brochures on the kitchen table, join even more motorcycling forums for advice and change your wallpaper to show your dream bike. But … it's wise to approach your new potential purchase with patience, wisdom and copious amounts of research. Here are five common mistakes made when purchasing a new motorcycle. Learn from our collective blunders here at RA and go into your next purchase like a two-wheelin' Yoda.
---
Sasha Rojas, RideApart
"From the time I started riding—learning on a borrowed Yamaha TT-R—the couple mentoring me had asked when I'd be getting a larger bike. I hadn't ridden 50 miles on my Ninja 250R before suggestions of a Harley Sportster, Ducati Monster, or some Japanese crotch rocket became their routine conversation-opener.
On group rides, people would often mistake my late model 250 for something larger, then try to persuade me that I needed a R6, Hayabusa, or some other "real bike." My university ride club was aghast when I told them I was doing my 100 mile commute on the little guy. As a daily rider who frequents the freeways of southern California, I've been urged by all my more experienced riding buddies to get something with better brakes and a bigger engine."
---
Ken Condon, Motorcyclist Mag
"Not much matches the thrill of acing a complicated series of corners. Part of the satisfaction comes from seamlessly executing the cornering process: setting perfect entry speed, establishing precise lean angle, and accelerating confidently toward the next bend. The perfect sequence of curves takes sharp cornering skills but also the ability to identify clues that uncover critical corner characteristics, including radius, camber, and pavement condition."
---
photo credit: Niseko (local route 66) via photopin (license)
---
I'd love to hear from you. What were your favorite articles of the week? Follow me on Facebook or Twitter where I help you see that by mastering motorcycling, you can master anything.