Mind to Heart Motorcycle Talk
by Liz Jansen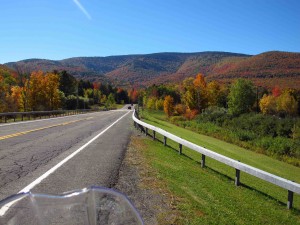 When motorcycles talk, I listen. And so it was that I pulled off the road last Friday evening, choosing to get a room for the night rather than complete the remaining 300 km/190 miles that would get me to my planned destination. It's also why I've decided to fly rather than ride to Joshua Tree for next week's course.
After spending two weeks of introspection and intense Energy Medicine study at the Omega Institute last week, punctuated by a weekend of riding through brilliant Hudson Valley fall scenery, my original plan was to return home for a quick turnaround and then get back on the road to cover 4,000 km/2,500 miles in five days.
Friday's ride started out with beautiful riding weather—sunshine and coolish temperatures. But my mid-afternoon start was later than I'd expected and even with a GPS, I got turned around following a circuitous route through the Catskills. The scenery was gorgeous however and the roads in fantastic shape as I wound through showy autumn foliage. Even when I knew I was hopelessly off course, I sat back and enjoyed it. These opportunities don't come every day and I figured I could make up time whenever I got to the Interstate.
By the time I was on the freeway, dusk was descending. As I headed west on an already gusty day, I could see a storm front approaching and intensifying, bringing thunder and lightning. Not good conditions for making time.
New York State rest stops are conveniently close together as rest stops go, but if you're caught in between them, even 20 miles can seem like the other side of the earth. Timing is everything though and with a little help from the throttle, I made it to shelter just as the heavens opened.
I was barely halfway back so when the worst of the storm passed, I started out again, now in total darkness. It was still windy and rainy and with the storm front passing, the temperatures had plummeted. Still, I'm geared to stay warm and dry in those conditions.
Shortly after returning to the road, my bike started misbehaving. I can only describe the sensation as the feeling one gets when traveling over expansion joints, bouncing up and down. It varied somewhat with speed and was intermittent. Although there was plenty of wind buffeting, this was different, and it didn't seem to be affecting any other vehicles.
Fatigue was creeping in to add to the mounting challenges and finally, I had to come to terms with the fact that it would be crazy to continue riding. I pulled off at the next exit and found a room where I could sleep until daylight provided decent illumination to inspect my bike.
The next morning there were no obvious problems and a test ride went very smoothly. The behavior did not return. It must have been the road surface that was hard to see in the darkness and rain (another reason to stop). Or it could have been the bike talking to me in the language I know best. It was time to get off the road.
Sunshine was back but it was cold—5.5C/41F most of the way. Even with heated gear, those temperatures take a toll and I was grateful to have less than 300km/190 miles to go. It also validated my decision to fly to Joshua Tree.
I love being out on the open road and there was a not-too-long-ago time when those daily distances would have been no problem. However, I've not yet recovered full movement or physical stamina, and the weather is unpredictable at this time of year.
This time, mind won out over heart. It's been an abbreviated season that's coming to a close too quickly. But wisdom wins. That 'you can do it in spite of the challenge' talk got me into big trouble last year and I have no desire to repeat that lesson. Besides, my motorcycle will be waiting when I return, and there'll still be riding opportunities, even if they're shorter.