Going Down Stairs
by Liz Jansen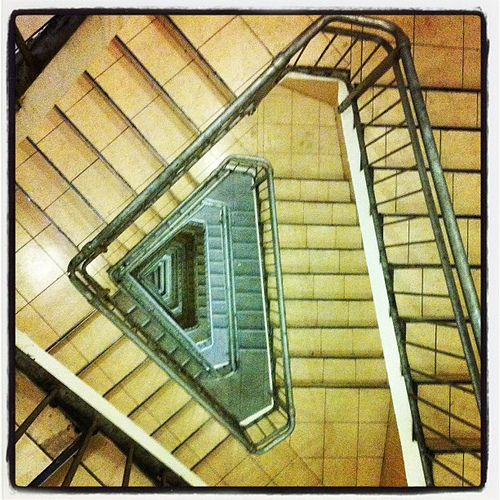 In my dream, I was going down stairs from the upper to ground level in an open concept home. Wooden beams supported the peaked ceiling and the entire wall, from peak to ground was glass, allowing the light to stream in. I stood at the top, looking down into space. This was not the typical staircase—with steps. It was like the bleachers in a gymnasium when they're all tucked away and I was standing at the top, knowing I had to get down.
From somewhere, a voice encouraged me to take the step; that all would be well. Trust was barely a thread stronger than terror as I falteringly stepped forward into the abyss with my right foot. As if by magic, the step appeared below me, but only the next one. Each step was just as hard, required the same step of faith, and appeared when I needed it. But I had to take the step first.
No one could have prepared me for how life altering the past year has been. The physical crash was merely the catalyst. At first I assumed I'd take 6-8 months to recover, get a new bike and be on my way again. I even called it a detour.
I've come to realize it's no detour. It's just not what I planned. This is the Road I'm supposed to be on with lessons I need to learn. Like letting go of old ways that once worked but now need to make way for the new. Or releasing (perceived) control of the outcome. Patience. Waiting. Listening. Learning to ask for help. Engaging with the power and strength of community.
Just looking at that list still creates anxiety.
In the 'old days' I'd set a goal and then make sure I accomplished it. That learned behavior makes for great results but it takes its toll physically, emotionally, mentally, and spiritually. Now I see there are easier, more scenic roads that will take me to my destination with a lot less angst, and more peace of heart and mind.
The Wheels to Wisdom via Ancient Spirituality Quest I set out on more than a year ago is still very much alive. The route I've taken looks very different than the one I planned. What I'd hoped to learn by traveling the Americas I've started to learn from home. How it's transpired is just very different.
Perhaps going down the 'stairs' in my dream is indicative of the need to travel deeper into my unconscious and discover what's there. To listen to my internal guidance system.
This weekend I'll head out for 5-6 weeks, combining motorcycle travel and Energy Medicine Courses. The first half of October will be in the beautiful Hudson Valley of New York. Then it's back home for a day before heading out to Joshua Tree, California. I've done a bit of traveling since getting my bike in July, but there's a lot of pent up desire to get out on the open road so I'm excited about it. For many reasons.
I still don't know where the Road is leading although I sense the general direction, subject to change of course. My job is to keep moving forward, even if the action called for at the time is non-action. My mission is to take one step at a time, knowing it's leading me in the right direction.
I'd love to hear from you. Comment below. Or follow me on Facebook or Twitter where I help you see that by mastering motorcycling, you can master anything!
---
photo credit: Going down? (Azrieli Tower's staircases) via photopin (license)