9 Ways to Benefit from Your Reflection
Mirrors reflect what you can't otherwise see. On a motorcycle, by telling you what's approaching from behind, they allow you to react appropriately in the present and prepare for the future. They're crucial to keeping you safe on the road.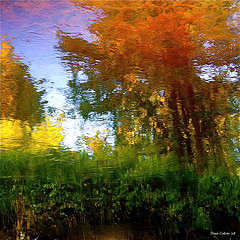 In life, people are your mirrors. They come into your life as a teacher to further your personal growth and keep you safe on your Road.
When you look at others, you see what exists in yourself. You are doing the same for others.
9 Ways to Benefit from Your Reflection
Clean the mirror. If the information coming back to you is going to be useful, the mirror must be clean. If you've just been through a storm, the rain and mud on your mirrors will obscure your image. Emotional filters will do the same things in our relationships with people.
Accept it. Distorted glass excepted, mirrors don't lie. As uncomfortable as it may be, accept what they're showing you. Qualities in others may be magnified to get the point across, but accept that what you see in others, exists in you.
Identify admirable traits. What is it about a certain person that leaves you feeling good about yourself? These are strengths within you. Building on them will further your growth.
Identify annoyances. It's much more difficult to accept ownership of qualities you dislike. Recognize the annoyances are areas that need attention. Often they are linked to unconscious or unresolved issues.
Look for patterns. Shift your perspective to be open to these messages. If you keep attracting the same kind of people you don't like to be around, you're not getting it. Feelings of anger, hatred, irritation are likely a response to qualities in yourself you don't like. Identify the patterns, including what prompts their appearance.
Identify success strategies. You may be pleasantly surprised to unearth admirable qualities you weren't aware of in yourself. Spend most of your time developing these strengths. While you need to address areas for improvement, don't spend inordinate amounts of time here. Tend to them so you can resolve them and move on.
Enact success strategies. You can spend lots of time analyzing, dissecting and rationalizing. At some point, the rubber needs to hit the road. Do something. Take a step. Even if it's a baby step, you're one step closer to success.
Reflect back what you'd like to see in the other person. This is an interesting and fun experiment to try. While having a conversation with someone, take note of their facial expression. If they begin to look worried or upset, recognize they're reflecting what they see in you. Adjust your expression and watch their face change.
Monitor progress. It doesn't usually happen overnight but if you're committed to growing and learn from your experience, you'll see a change over time. People come and go from your lives. As you progress, you'll attract new mirror images.
Looking in the mirror can be a humbling and eye-opening experience. You are here to grow and flourish. The people you meet along the way are your teachers and reflect back qualities, both positive and negative, you need to be aware of.  Learning the lessons from mirrors furthers your spiritual growth and keeps you safe as you travel your Road.
Related Posts:
photo credit: Denis Collette…!!! via photopin cc