How to Start Riding After a Motorcycle Accident
by Liz Jansen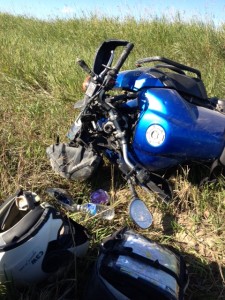 I'm nervous about getting back on a motorcycle. Although I don't keep a running total, I've ridden hundreds of thousands of miles over 45 years with no accidents on the road until last summer. I teach others how to ride motorcycles at Humber College. And I'm a little spooked.
There's never been any question that I'd ride again. Even before I hit the kill switch as my bike lay totaled in that Alberta ditch, I knew I'd be back on the road. And that time is quickly approaching.
You don't have to have done anything spectacular to unnerve you. An incident as minor as dropping your bike in a parking lot can give your confidence a hit.
Here's how I'm proceeding:
Have a plan. Your circumstances will be unique to you, your riding experience, and any injuries.
Consult an expert. I'm fortunate to have access to Clinton Smout, a world-class trainer and owner of SMART Adventures.  Clinton's a consummate professional and trains everyone from little kids on their first off-road bike, to police officers and FIM trainers. Don't take advice from anyone BUT an expert. There's too much at stake.
Wait until you're ready. I haven't ridden a motorcycle in 10 months. That alone means my skills are rusty. That I've had a traumatic experience compounded by a non-riding injury has affected my confidence. And I'll be riding bikes that are new to me. I've got a few things to overcome.
Start slowly. Three weeks ago I had my first motorcycle ride since crashing nine months earlier. I was tentative and really nervous, not so much from flashbacks but rather because I didn't feel secure on the ankle I broke at the end of March. Until a part isn't working at full capacity, you don't realize how much you use it. I thought I'd just need my left ankle for support when I threw my right leg over the seat. That's true, but just the start.
Your ankle doesn't remain rigid as all of that is going on. Even if subtle, the joint is flexing, rotating, and extending itself to help you maintain balance. I ended up getting on from the wrong side and even that took a bit of acrobatics. Then there was the dilemma of righting the bike from the side stand. I was on a light bike, on a flat surface, and it wasn't that far over, but that little push to get it vertical by myself was out of the question that day. With a little help I was off and accomplished what I'd set out to do—ride around the parking lot.
Get ready to push your comfort zone. Don't think there aren't voices in my head telling me I'm crazy, and to be careful or I'll hurt myself again. Some of those voices are logical while others are over-reacting. It's a matter of keeping them in balance. We all know riding is risky but there's lots we can do to mitigate it. Keeping skills sharp, riding alert, and wearing high visibility, high quality protective clothing are a good start.
Choose your motorcycle wisely.  Your motorcycle may be OK for you to return to. Mine isn't. I'll be testing bikes that are lighter, have a lower seat height, and a smaller engine displacement. I like the upright seating position and know I may have to adapt it so it's comfortable for me.
Ramp up gradually. I know the secret to building confidence is saddle time, done under conditions where I'm set up for success. For a few days, that means parking lots and low speeds on low-traffic roads during off-peak hours.
Take frequent breaks. My ankle and shoulder will need a rest from the physical exertion. And whether I feel it or not, I'll be expending emotional energy on tension. It's only natural. Short, more frequent rest stops will keep me from depleting my energy allotment before I get to my destination.
Be flexible. Be prepared to adjust your progress depending on how you respond. There's no prize for overdoing it or trying to get back before you're ready. I have no desire to spend more time recuperating.
Be kind to yourself. It takes effort and done deliberately and purposefully, it's so worth it!
If you truly want to ride, don't let anything or anyone stop you. Not only do you deny yourself the pleasures of riding, that message of defeat carries with you into other areas of your life.
---
[ois skin="3″]