Road Report | Three Months into the Detour
by Liz Jansen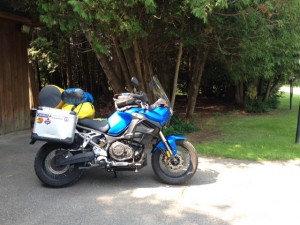 It's now been three months since I turned onto the detour. While it wasn't the experience I anticipated or foresaw when I left Ontario, it's been an adventure just the same.
Here's a progress report.
Recovery
It's been both painful and slow. I guess that makes it painfully slow. Nonetheless there is progress every day, even if barely perceptible. It's not outside the norm given the amount of damage to my left shoulder and I'm not discouraged, but I do get frustrated. I'm going to physio regularly and almost without fail, doing my exercises at home three times a day, every day.
Six years ago, I broke my right shoulder during an off-road training course, and while that break was not as complex, and I was six years younger, I loosely calibrate my progress against that experience. Three months to the date after that catapult, I began riding again—just around the country block the first time, and then gradually increasing.
There's not enough function in my left shoulder to ride yet (even if it wasn't winter), although I'm going to sit on a friend's bike tomorrow to see if I can reach the handlebars. There's also a problem with my right thumb, which isn't settling down yet, and I wouldn't be able to operate throttle or front brake safely. (When the bike stopped, my hand didn't and the handlebar jammed into the web between thumb and index finger.)
Carlessness
Last weekend I rented a car as I was going out of town. It's only the second time I've driven since I've been back, and I realized how little I miss it.
First of all, it's uncomfortable, even moreso when I'm driving. I have to stretch across myself to reach the seatbelt, then find a comfortable position so that it's not rubbing against my sore shoulder. Shoulder checks are also cumbersome.
The worst of it is sitting in standstill traffic, burning fossil fuels and patience, with no value added. Never one who got a kick out of car rides, I do so now purely as a matter of convenience.
Unintentionally, I've discovered that Measha likes coming along on walks, which has added another fun dimension, and conversation maker.
No doubt my lifestyle choices make this mode of transportation conducive. It was another choice that gave me the opportunity to experience this. We all make choices and then deal with the consequences.
Wheels to Wisdom Quest
Originally my intent was to ride through the Americas, visiting indigenous Wisdomkeepers and Elders, intending to get a better grasp of who we are before we're shaped by our culture—and how we can use earth wisdom to live in greater harmony with ourselves, each other and our earth. I also committed to being open to what the road delivered.
The detour has taken me off my original plans, which only means there are other opportunities, experiences, and people to help me fulfill this purpose. Right now it doesn't look like I pictured it would play out, but there's more than one way to get from here to there. We evolve as our journeys evolve. The important thing is to stay on the Road.
So I'll continue to write and podcast around that theme, however it plays out. I still intend continue with the original plan, although given what I'm learning, it will look different. I still don't have clarity around it, but know that I will when it's time.
Balance
I lost my balance and ended up in the ditch. While I say that my new priority is recovery and looking after my health, there's a false ingrained belief that I can still work a full day and then look after my body, mind, and spirit in what's left over. My schedule's flexible so if I've got physio in the afternoon, I can round out my work hours in the evening. You can imagine however, that what's left over is pretty bedraggled.
Being self-employed, I put inordinate pressure on myself to generate income. Yet I know that if I don't care for my being, my work suffers too. I'm not respecting myself, nor can I be of full service others.
So although cutting back, even temporarily, has been a huge internal struggle, I'm pleased that I'm learning this lesson—it's working out just fine. The reality is, if I push myself beyond my new limits, my work isn't as good, and my recovery is delayed. Which means longer before I start riding again!
It's an exciting road we travel. Learning to detach from the outcome and labels we stick on ourselves, giving up suffering, and letting go of the way we things ought to be are some of life's greatest lessons. But doing so allows us to co-create our future and live a life of joy and fulfillment.
What one lesson will you work on to enable you to live your life to the fullest?
[ois skin="3″]