Women and Motorcycles: Sandra Lewis Speaks
Women Riders Speak is an interview series about women and motorcycles. Through their stories, women illustrate the transformative role motorcycling has played in their life.
Sandra Lewis, a psychotherapist/mediator specializing in Grief Counseling, started riding as a teenager and hasn't stopped!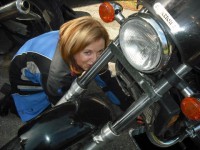 What prompted you to get into motorcycling?
We were living on a farm when a friend made a little 150 Honda available to me for a summer. I was 14/15 and used to ride it up and down the driveway. (There have been one or two illegal excursions onto the road… I can't say for sure about that. ) That was many, many moons ago… I have been riding for 40 years! Wow, even I'm impressed when I see that in writing.
My next bike was a Honda 360, perfect for learning and scooting around town. In many ways, I miss the ease of getting around on that little bike, although I did wipe out going around a slick corner one afternoon… that definitely took the wind out of my sails for quite a while.
After that a boyfriend encouraged me to bump it up, and I got a used Yamaha 750 Triple… a great bike. I rode that bike right across Canada and had many great adventures. But it sat a bit high and was a heavy bike to handle.
My next bike, which I still ride, was my only brand new bike, a lovely Honda Magna 750, which they don't make any more for some strange reason. It's a great woman's bike because it sits low, and has a ton of power. I've had it for more than 15 years now and never had a single problem with it. I've dropped it twice, maybe three times, but the last time I was able to pick it up myself which thrilled me!
I should say that it is in pretty good shape,  in part thanks to the super spring maintenance workshops that Liz offers. I've gone every year for the past few years, and always learn something new.  And I really enjoy changing my own oil and getting to know my bike better.
What was your biggest challenge when you were learning to ride?
My biggest challenge riding has always been maneuvering bikes in small places, going in circles, turning around… at slow speeds there is a real art to doing this, and I don't always manage it well, even now. The experience of riding, though, has always met and often exceeded my expectations. All the long rides I've been on have been incredible adventures.
Where have you traveled on your motorcycle?
I've been across Canada, camping out on a trip east to Nova Scotia (where I wiped out on the Cabot Trail and rode through a blinding rainstorm with trees falling down into the roadway, (camping all the way), and a trip out west to B.C. and down into Montana.
I've ridden all through Ontario and a lot of Quebec, and down into at least 11 of the States, as far as Tennessee where I rode the much over-rated Dragon's Tail.  Getting there was 90 percent of the fun… Pennsylvania has the most amazing roads.
What impresses you most about another woman rider?
I think it is great that they are finally catching on to how much fun it is to ride instead of being a passenger… I think riding is empowering for women, and I have seen some very good women riders.
What is your greatest joy from riding?
The greatest joy is getting out on a beautiful, quiet country road with long, winding curves on a glorious summer day, and feeling the wind, smelling all the smells and feeling that incredible sense of freedom and closeness to nature… I love the fact that you can't think about a whole lot when you are riding… it requires a lot of attention, and that, to me, is like a moving meditation. You can be completely lost in the experience.
I admit to also really enjoying riding on a busy highway and getting to maneuver in and around traffic.
How do you look back on yourself as a beginner rider now?
I think I've come a long way… I know my weaknesses, and what to watch out for from other drivers… I know the dangers and I feel usually quite confident on my bike… I see that as a lot of growth, although I have always been fairly fearless.