15 Riders Describe Their Shopping Preferences
Do you prefer to shop online or the personal experience you get in a shop? Does it depend on why you're purchasing?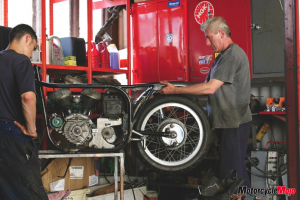 We posed the question during a recent chat I facilitated on Motorcycle Mojo Magazine's FaceBook page. Add yours in the comments below.
15 Riders Describe Their Shopping Preferences
Al F. All depends if I know the fit. Prefer to deal with people…because I get to talk bikes but I do like saving money to spend on gas!
Ursula B. I prefer to shop for items at my shop where I can get someone's opinion and give them mine.
Mark K.  Totally depends what I am purchasing. That being said I feel like a kid in a candy store when I pilgrimage to both Altrider & Touratech in Seattle for farkles for my GS.
Shawn D. Depends on what I'm purchasing and if you have a good relationship with your shop they will always give you good advice about what your buying online versus buying through them.
Jeff S. depends on WHAT is being purchased.
Mary M. I buy most accessories online because there really aren't a lot of accessory shops. I would prefer to buy in person or to see the accessory showcased on my bike. That doesn't seems to happen though.
Al F. Generally if I go into shop to buy, I buy from them…I go to the bike shows to try stuff on like helmets and then shop around.
Ian S. I find that the shops are just to busy to pick their brains about products. I get my info from the forums, then buy online.
Kevin W. For clothing, I like to try it on for fit and feel so go to the local shop. For accessories or parts, I do the research on line and then find the best place to buy it, sometimes it's from a web store, sometimes the local shop.
Karen G. For me, it does depend on what I am purchasing. If I can save myself a substantial amount of $$ ordering online, I will do so, but only on "small" parts and accessories. When it comes to major parts and installation, I like the comfort of knowing that my local shop will take care of everything, and I can always go back to them with any questions or concerns.
Terry F. I like shopping in person. I'm old school and like the tactile, touch, examine drill. I have also had some bad experiences with online shopping.
Mark K. I will shop stateside due to the immediate availability of products.
Rozzie L. It's important to support the local bike and accessory shops, they keep the sport and community alive in your area, keep passionate employees paid and this gives you the best service in return.
Barbara W. A bike has to be bought in person, parts are more convenient to buy online if you live in rural Ontario!
James M. I usually browse through lots on the internet then shop when i decide on which to buy.
Add yours in the comments below.