Six Months Later
by Liz Jansen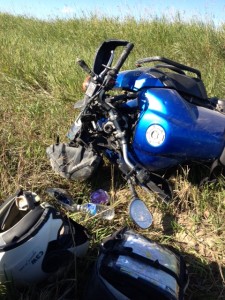 It's now exactly six months since I began the unplanned portion of my motorcycle quest. Although my trajectory was generally west before turning south, that day I headed east from Arrowwood, Alberta, headed for two destinations in close proximity to each other: Blackfoot Crossing, an interpretive center, and the farm where my dad spent seven years until age 11. Instead, that road led right back to me, to months of introspection and getting to know myself and understanding the journey I'd set out on.
Lest you think I've now got it all figured out, it's more of a mystery to me now than ever. Last August, I knew I'd be off the road for a while recuperating for an indefinite period of time and would then be able to resume my travels, albeit in a modified format. It was simple. Take time to heal and get back on the road. Other than knowing it's going to take longer than I imagined, I have no idea of how long that will be or what getting back on the road will look like.
It's hard to figure these things out alone so I've sought the counsel of wise teachers who can help me gain perspective and navigate through this change and uncertainty. This week I was dumbfounded when I was shown that one of the patterns that I'm trying to break was the same behavior that led to my accident. I've often spoken of my tendency to overwork and get the job done, even when I overcommit. That was exactly what happened with my bike. I overcommitted my riding abilities and rather than recognize and listen to the fear that was trying to protect me, I decided to hunker down and get the job done. We all know how that ended up. Thankfully that hasn't happened in other parts of my life but it's vividly symbolic of the need for a change in approach.
Then there's the physical part. This week I had a follow-up visit with my surgeon in Toronto and got news I hadn't expected. These types of injuries are often treated with two-stage surgery. The first to secure the bone while it heals—which has happened beautifully. Beyond that is the soft-tissue healing and regaining movement – which pretty much maxes out at six to nine months.
Although I'm cleared to ride but my range of motion is still significantly limited. (I can't raise my arms very far but any bike I have won't have ape-hangers.) If I'm driving a car, I have to reach over with my right hand to grab the door and close it. I can't reach the top of my head with my left hand, or put lotion on my right shoulder. Deodorant has to be applied under my right arm with my right hand, and reminds me of a monkey maneuver every time.
Now that the hardware has done its job, the surgeon feels that I could gain almost full movement if it's removed. While there, he'll clean out the adhesions and scar tissue from the injury and aftermath. Then with more aggressive physiotherapy, I should have more movement.
The plan is to continue with another three months of physio then reassess. If surgery's warranted, I'll book it for late fall so I can enjoy the riding season and recuperate during the winter. Again.
In the mean time, I'll continue with intentional stillness, in fact stepping up the intensity. It's hard work and it's paying off. More on that another time.
Thank you for your continued support and words of encouragement. They help a lot, and mean more than you'll ever know.
[ois skin="3″]