5 Tactics to Turning a Corner
by Liz Jansen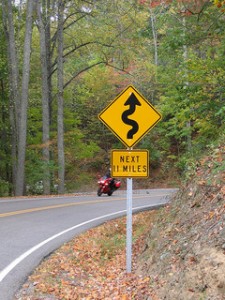 Turning the corner on a motorcycle is a skill many riders struggle with, often because they don't understand how to properly complete the maneuver. Getting prepared and set up for a successful outcome makes a huge difference in getting around that corner successfully.
One of the most difficult aspects of dealing with life changes, especially when they're significant and abrupt, is turning the corner on how you see yourself and shifting your perspective to your new role. You identify with the roles you play, forgetting that this shifts constantly throughout life. When you realize that the core of your spirit does not change, you can reframe external events and how they affect your Road. Embracing new roles gives you a fresh perspective and a greater understanding of others. Read: Changing Roles
This has certainly been the case for me. After all the preparation for living and working from the road on an extended motorcycle quest through the Americas, I find myself back in Orangeville, Ontario where I started, now without a motorcycle or car, healing a broken body, moving into a new place to live and settling in for another Canadian winter.
As with getting around a corner on a motorcycle, the same principles help you get around corners in life. Learn to manage these hazards:
Anxiety∫ It's easy to focus on an upcoming curve so much, that you don't set up properly for it, entering the corner at the improper speed. Worry, which often doesn't materialize, sets you up for failure.
Tension. When you're tense, you hang on to the handlebars and try to manage the bike, rather than letting it do what it does naturally. This uses energy unnecessarily, alters your focus, prevents you from enjoying the moment, and puts you at risk.
Speed. Excess anxiety can make you slow down too much for the corner. It jeopardizes your safety, as well as those following you. Being oblivious to signs of change, there's a tendency to enter the corner too quickly.
Getting spooked. You fear the actions of others more than is reasonable, and end up being reactive and impulsive, making poor choices for managing the situation and not in control of your machines. Look after yourself first, and let others do the same. Only then can you be of service.
Eyes. Keeping your visual attention through the turn and toward the exit, helps your mind manage the corner. The landscape slows down when you look ahead, reducing anxiety and helping complete the cornering process. Keep an eye on the big picture. It diffuses the influence of the day-to-day.
When you fall going around a corner, there's no point sitting at the side of the road, wounded in body and spirit. That corner is part of your journey and it's important to continue it, even if the road doesn't look like you expected.
My corner mishap occurred on my Wheels to Wisdom quest. That quest isn't over just because I ran into some difficulty. What would that say about me and my commitment to my goal? It's all part of a journey which will continue, even if the road to get there looks different from what I envisioned.
Turning a corner isn't easy. If it was, anyone could do it. Understand how to navigate corners properly, practice, and when you fall, get back up, learn the lessons, and move on.
photo credit: dead elvis via photopin cc