13 Riders Share their Sources for Used Motorcycle Gear
We all know to NEVER purchase a used helmet. But there are often good deals on other used gear. Have you purchased used gear and where's a good place to find it?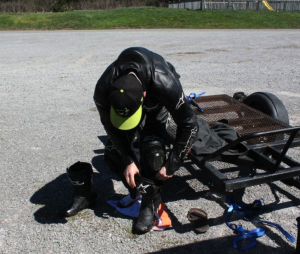 Here's how these experienced Motorcycle Mojo fans responded.
13 Riders Share their Sources for Used Motorcycle Gear
Mark K. I have never had the opportunity to purchase used gear just because of my size, not many people selling gear for someone my size being 6'6′ 270lbs! I did manage to buy a heated vest though that works nicely for half the price of a new one from a friend of mine…
Darlene D. Jackets, boots, pants and gloves are completely different from helmets and I have bought a used jacket after close examination only. When I was done with my old helmet, I took it apart and cut the chin strap so no one would be tempted to used it after I disposed of it.
Kevin G. Purchased an almost new snow-mobile suit (jacket and pants) at a garage sale several years ago and have used it for winter riding several times !
Karen G. Never bought any gear used.
Sean K. Yep, full suit from kijiji. Boots, suit and gloves are fine as long as they are not chewed up
Tim M. Never bought used gear and any used gear I've had I've given to somebody starting out or not being in a position to buy new. Used helmets always go to the dump
Mike P. I bought a ballistics jacket at the international centre mc show a few years ago for $125. Was a great deal!!
Tony M. I find my used stuff through friends
John T. I always buy my riding gear NEW!!! gear is personal and used is just not cool!
Kees S. Jacket gloves and boots used. Look for the right deals and you're golden!
William H. We have a local dealer who lets bikers sell their used gear as long as it is in good condition!
David L. Yup, on kijiji
Bruce A. yeah I've bought used gear off Kijiji leather jacket, gloves also from online stores over a year old helmet still in box, brand new but year older who cares better price than in stores.