When It Feels Like the Ground is Shifting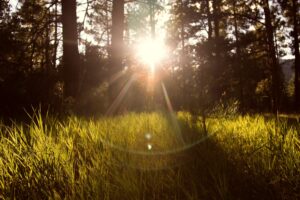 The light energy could hardly be stronger than it's been over the past week in the northern hemisphere. We've crested the most number of daylight hours for this year and last week the the full moon illuminated the night. The light shining on us has been strong.
The new life we were waiting for in spring has arrived—in our gardens and in our selves. There is much hope, but as at the beginning of any new life, the energy is chaotic. The world is different and the rules of engagement are foreign to those we remember.
Even as I write this, the light shines on the glaring truths of egregious behavior our culture has carried out and condoned. With so many existential issues surfacing —Indigenous issues, looming environmental catastrophies, racism, and economic disparity, life can feel overwhelming. It can feel like the ground is shifting beneath our feet.
Relax. It's not up to each of us to tackle them all. Our mission is merely to use our skills and gifts to the best of our ability, in whatever we're called to do. By doing that, the larger issues get taken care of too.
All that bright light shining on the big stuff helps us explore our fullest potential. It prompts us to celebrate the new life of summer and take in all that's growing in us and in the world. Life is flourishing, encouraging us to be open, and outward looking. It asks us to surrender our energy to growth and transformation.
Less than a week after posting my spring reflections in Swamp Wisdom, the call came, naturally, during a walk in the woods. While there are still many loose ends to wrap up before sharing, I hope to be able to do so later this summer. Suffice it to say, I'm looking forward to a major undertaking that will build on my experiences while challenging me in new ways.
I'm not alone in facing transition. Many are navigating extraordinary personal challenges. Friends are living through major health crises, end-of-life decisions, and the break-up of family relationships. Others are finding joy in the arrival of new life—children, grandchildren. Some are packing up and putting down roots in a brand new setting.
As exciting and hopeful as something new can be, even when positive and chosen, it can throw us into turmoil. Over the past month, work, preparation for what lies ahead and purchasing a car have usurped much of my time in nature. (I've managed with rentals for seven years.) I catch myself when it feels like the ground is shifting beneath my feet.
My daily meditation practice helps me maintain balance, but the best elixir is heading for the trail. A contemplative walk in the forest, or meadow, or mountains (in the cool of the day) is restorative and regenerative. Reading biographies and memoirs of others who have risen through seemingly impossible adversity, demonstrating courage and value-based leadership (Nelson Mandela, Martin Luther King, Maya Angelou, Malala Yousafzai) are inspiring. We're not all here to be world leaders, but we're here to share those unique gifts we brought into the world.
Change is challenging. Over the past month I've wrestled with the voices that tell me I'm unworthy, not smart enough, or too old. I thank them for their concern about me and tell them to go play because that's a child's voice. Then I go back and read words that adult Liz has written, such as those in Swamp Wisdom. They remind me that even when it feels like the ground is shifting, I'm on the right path.
Photo by Micah Hallahan on Unsplash