Finding Calm When Quitting is Not an Option
by Liz Jansen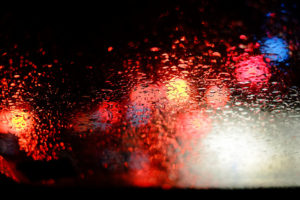 It was a two-part challenge. First came a day of riding big-rig-dense Interstate 20 across Texas during autumn storms. The second, heralded by foreboding skies, came the next day and took the first day's lessons to a new level. My goal was to reach my friends' home in northern Georgia ahead of the outer rain bands of a hurricane blasting the coastline 300 miles south. Little did I know how remarkable the final two hours of that 640 mile/1,000 km ride would be.
Showers that started gently, intensified as darkness fell. At least the previous day's storms had been in daylight.I debated stopping for the night but there was nowhere convenient and I was so close to my destination. I could manage a little rain. Soon I was past the point of no return.
Heavy rain and darkness shrouded me as I turned north through unlit secondary highways of western Georgia. Raindrops found their way inside my helmet visor and dotted my glasses. When I lifted my visor to clear the fogging, they pelted my face but it gave me better visibility than trying to see through three watery lenses (glasses, inner, and outer visor).
For two intense hours, I stayed on the road by following my GPS and the tail lights (sometimes far) in front of me. Once when there were none, I waved someone to pass me so I could follow them. I couldn't see well enough to do anything else—like pull off the road. Judging by the torrents falling from the sky and the deluges that covered me from oncoming vehicles, there was a lot of water on the road. I prayed I wouldn't hydroplane.
I remembered the lessons of the day before (10 Tips for Being in the Flow Through Life's Storms). I thought of Leslie Porterfield's words when I interviewed her for Women, Motorcycles and the Road to Empowerment. During her racing career, Leslie broke numerous land speed records on the Bonneville Salt Flats. She described three tactics—staying focused, mastering fear, and not letting panic set in—as key strategies for success (and survival).
Although I felt little fear, my senses were on high alert. I prayed for focus and good judgment. I had no choice but to trust my skills, intuition, and my Higher Power, knowing that no matter what the outcome, it was for my greatest good. Letting thoughts of failure intervene served no useful purpose. I envisioned my heart-family (and dinner) waiting for me, and pulling into their garage.
I relaxed into the moment and trusted. Like the day before, a sense of peace and a deep inner quietness permeated the darkness. It's the best possible place to act from when everything looks black. I maintained a steady throttle, trained my eyes on the tail lights, and kept splashing down the road. Trudy's (my Triumph Tiger) road-handling skills were impeccable.
Storms always pass. Fighting them and thinking about how we're suffering creates conflict and stress. Letting go of those thoughts brings us into the now and that place of peace. From that calm center, it's easier to find and use the guides and resources that are always at hand, focus on where we're going, and keep moving forward.
---
Photo credit: mmartinsson on Visualhunt.com / CC BY-NC-ND