Wisdom from the Child in the Woods
by Liz Jansen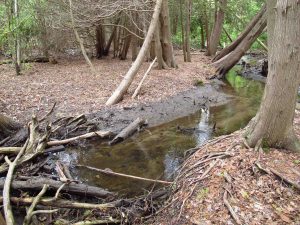 Motorcycles aren't the only means of transport for inner journeys.
Now that spring is here, I follow a loosely defined path when I walk to nearby plazas for errands. My place backs onto a greenbelt of mostly cedars I love walking through. Usually it's a tranquil respite, but occasionally wisdom arises out of innocuous encounters.
Walking home last Friday, I caught the attention of three young girls, ages six and seven, out exploring under the supervision of a caregiver. I was on the side of the stream they were trying to reach by clambering across a logjam.
"How did you get over there?" they screeched in their little girl voices.
"There's a path," I responded, "but it's a little hard to find. I'll show you where it is."
Like a shot, they were off the logs, running towards the parkette we'd all come from. They ran across the bridge and I met them at the not-so-obvious entrance on my side of the stream. Running, jumping, and chattering non-stop, they followed me into the woods. The caregiver followed slowly and silently at a distance, a shadowy apparition.
"She's scared of the woods," said the alpha-girl, pointing at her friend, although it looked like it could have applied equally to their adult. "Her name's Faith."
"Faith," I addressed the shy little girl kindly, wondering what stories she'd been told. "There's nothing to fear out here with us. And with a name like yours, you shouldn't be afraid anyway."
It was the alpha-girl's response that blew me away.
"Her parents gave her that name so she'd learn how not to be afraid," she said, while turning towards her friend. "She needs to take her name and hold it here," she concluded, patting her right hand over her heart.
We continued on for a bit, them chatting and me listening until their adult, having decided they'd gone far enough, reined them in. I continued on, smiling, pondering the message from the wisdom of a child.