Women and Motorcycles: Brenda Windell Speaks
Women Riders Speak is an interview series with female motorcyclists. Through their stories, they illustrate the transformative role motorcycling has played in their life.
Motorcycling transformed Brenda's life in a way she could never have imagined.   A first-date meeting in a southern Indiana Walmart parking lot  introduced her to her husband and motorcycling – and an accident that would lead to a lifestyle she loves!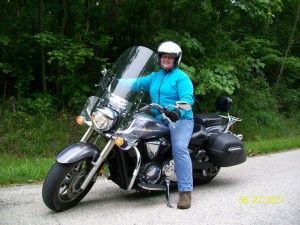 What prompted you to get into motorcycling? 
After being single for twenty-five years, I decided, at age fifty-six, I did not want to spend the rest of my life alone. I signed up on a dating web site and came across a listing from a gentleman who was looking for a riding partner.
I passed it up several times as I had never been on a motorcycle and didn't know if it was really something I wanted to attempt at my age. Eventually I contacted him, explaining that I had never ridden but was willing to give it a go.
Our first meeting was in the local Walmart parking. He thought, "She'll never get on."  I thought, "How in the world do I get on??"
That was November, 2009 and we've been riding ever since. In April, 2011 we married, and in May I took my Motorcycle Safety class and got my motorcycle endorsement.
What was your biggest challenge when you were learning to ride?
Hand coordination. I knew how to drive a manual shift vehicle, but a motorcycle is different.
The course helped immensely.  It built my confidence and gave me hands-on training in a safe environment. I was also taught how to react in real life scenarios.
I got on my own bike for the first time, rode it a couple of blocks away to a church parking lot and practiced figure eights and sudden stops. After the second day, I had it out on the road and off I went! The exhilaration and feeling of freedom was more than I could have imagined!
Where have you travelled on your motorcycle?
Since then, I've traveled to Key West, the Everglades, Deals Gap, Blue Ridge Parkway, Cherahola Skyway, Natural Bridge State Park, Garden of the Gods, the Saddle Sore 1,000 from Indiana to Virginia and back and all over Southern Indiana.
What is your most memorable experience?
When I began riding, I used it for the one hour commute each way to my job at an automotive plant.  I was the only female who parked a bike and was considered "unusual."
I had been riding only about two and a half months and had already ridden the Tail of the Dragon and many points in between.  I KNEW that your bike will go where your eyes take you. And so it is.
I could not have been going more than five mph, maneuvering around a large pothole, when a large pile of sand and gravel along the side of the road caught my eye. Yep, I went there. Dropped the bike and broke my left leg. Not just fractured it, but really tore it up.
My bike had no scratches, dents or any indication it was dropped. I had no scratches or bruises, just a severely damaged left leg. I was unable to shift and have only recently been able to get back on my bike. I will always have a slight limp to remind me of the mistake I made, but I am more the wiser.
Because of the accident, I was unable to return to the factory job. "Coincidentally," my husband and I had just bought a property with  three greenhouses and decided to begin an Aquaponics operation. While I recovered, we started up our business and now raise organically grown vegetables and fish under the name Velpen Aquaponics.
Spending three months in a wheelchair, progressing to a walker and numerous Physical Therapy sessions is NOT fun and I sure do not want to repeat it. I would much rather be out on the open road, exploring life and living!
Good things always come out of adversity. And so it was with that event. I really hated the factory job, and now I have a career I love and time to take a ride when I want!
What more could I ask for?