Women and Motorcycles: Kristen Vallieu Speaks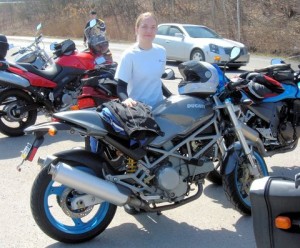 Women Riders Speak is an interview series with female motorcyclists. Through their stories, they illustrate the transformative role motorcycling has played in their life.
Kristen started motorcycling right around the time she started graduate school.  Now, with a PhD in Molecular Genetics, she researches liver cell transplantation to treat children with inherited metabolic disease, is involved in the cell transplantation program at Children's Hospital in Pittsburgh,PA – and races motorcycles!
What prompted you to get into riding?
In 2003, soon after graduating from college and moving back home, I met a guy who rode a red VFR800. He was an ATGATT (all the gear all the time) high mileage rider, complete with Hi-Vis Aerostich suit for the street and Barnacle Bill leathers for the track. He raced with WERA (Motorcycle Roadracing) and was a corner worker with MARRC  (Mid-Atlantic Road-Racing Club).
I accompanied him to the track frequently for moral support, and rode as his "backpack" on little day trip dates and on group rides. My mother hated the thought of me on a motorcycle, but I enjoyed every minute…though it never occurred to me to ride my own bike.
Then he surprised me for my 23rd birthday with an old beater 1981 Honda CB400T he rescued from the junkyard. At first I was pretty apprehensive, and actually felt bad because I was sure he had wasted his money ($300). After rebuilding the bike together, he encouraged me to take the beginner MSF (Motorcycle Safety Foundation) course and "just see how it goes".
I fell in love! I rode the wheels off that little CB my first season, and through some friends we both got involved in the Ohio YSR League (now renamed the Ohio Mini Roadracing League). I was out on the track two weeks after passing the MSF basic rider course!
I borrowed a YSR50 race bike and was awarded Most Improved Rider that first year. The following year I graduated to a Ducati Monster 750Sie on the street and married the VFR800 guy (Ryan) – he was a keeper! I also bought my own YSR50 race bike, and my perseverance paid off. I became the 2007 Stock YSR50 Novice Champion in my club! I love that motorcycling is a passion my husband and I can share.
Where have you traveled on your motorcycle?
Our typical rides are just two-hundred to four-hundred mile day jaunts to local twisties and back.  So far we have ridden to Niagara Falls, Canada to camp and the Black Hills, South Dakota for a ten day vacation (3,500 miles round trip through eight states) on our sport bikes, and are looking forward to more moto-vacations.
Last year my husband and I both bought dual sports, and are excited to get involved in a whole new motorcycling experience by exploring off road!
I am grateful that I started off on two wheels right: I was always around level-headed, safety conscious motorcyclists on the street, and my racing experience has taught me more about riding technique than everything else combined.
What is  your greatest joy from riding?
My greatest challenge was overcoming my own self doubt and frustration when I struggled with certain skills (perfectionist), but through that experience I am definitely more confident, outgoing, and independent than I ever have been.
I've also gained a lot of mechanical know-how, since my husband and I do all our own maintenance, and pretty comfortably know my way around an engine.
In addition to my personal growth, I have met some fantastic people through motorcycling, and I am always excited to meet another woman rider with the same passion for the sport that I have developed.
In an effort to "give back" and start new riders off with a good foundation of knowledge and skills like I did, I became a certified MSF instructor in 2011. So far it has been a very rewarding experience, and I love helping the students overcome their fears and anxiety and watching them gain confidence and independence. That "light bulb moment" is also a great thing to witness when they finally figure out a concept!
Riding has contributed more to my well-being than I could have imagined, and I cannot fathom my life without it.