Change in Plans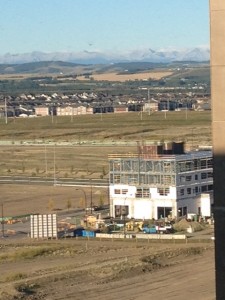 My office view for six days—the majestic Rocky Mountains—from a hospital bed in Calgary. A change in plans.
I know that there are two plans for each day: my plan and Spirit's plan. Sometimes they match; sometimes they don't. This has come home in a very real way in that my eagerly anticipated quest to South America must pause after just three weeks on the road. One week ago today I had an accident, resulting in a complex L shoulder fracture. My bike will likely be written off. My shoulder has been pinned back together and I'm now recuperating at a friend's home in Calgary before returning to Ontario.
From an unfortunate situation, I've already received countless blessings, including a Good Samaritan who drove me 90 minutes to the hospital, wonderful friends who have extended their home, excellent medical care and unconditional love and offers of help from too many to mention.
My focus now is on letting my body heal, so you'll see fewer posts for the next little while. I may never understand why this happened but evidently new opportunities await. I'll blog and post more in the weeks to come, but for now I heal.
Thank you for your continued understanding and support.