7 Reasons Charity Attracts Motorcyclists
Motorcyclists have huge hearts. One only has to glance at a calendar of activities to get an idea of how much they contribute to charitable organizations. During the riding season, every weekend has a choice of rides and causes to support. Although these rides focus on financial contributions, many also offer their time and expertise to lend a hand to the less fortunate.
Debbie Dixon is Director of Marketing and Events at Ride for Sight, the single largest private fundraising initiative for vision research in the world. Debbie advises that RFS  has raised more than $19 million in support of The Foundation Fighting Blindness, the only organization in Canada whose mandate is to fund research for blindness caused by retinal degenerations.  While this is a large ride, it's only one of the many that are held every season.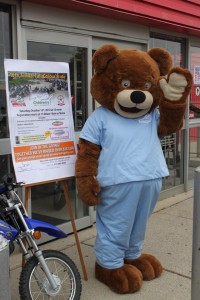 Why are motorcyclists so charitable? We posed the question during a recent chat I facilitated on Motorcycle Mojo Magazine's FaceBook page.  These riders offer their thoughts.
Add yours in the comments below.
Ursula B. I think most people who ride really value their freedom and want the "bad" biker stereotype to go away.
Don S. It is something that gets a great deal of people who all love the same thing that being riding together. When for a cause even better.
Chris T.Because EVERY single one of us remembers a time without… it may be without something that most consider a luxury, but it's still doing without…If you have a little to spare, there is no reason not to help out someone that may be having a tough time… There's plenty out there that have way less than most of us, and just by the nature of the camaraderie of riders, there's also a little competition.. "If I can be nicer than you, that makes me a better person…" ETC…
Liz J. It would be interesting to compile the numbers and see how much those charity rides actually contribute when you add them all together. People would be astounded.
Don S. You have that right millions of dollars with not even thinking about it.
Don E. Riders are highly social and our charities are social events.
Roni C. Ever been a long way from home on your bike and hit a run of bad luck… then to have someone help you out and want nothing in return… makes me think about others every time my leg goes over the bike
I attended a Horizons Unlimited travelers meeting a few weeks ago and people travel the world and get the same reception. Motorcyclists are a very hospitable and welcoming group.
Add your thoughts and experiences to spread the positive energy!