9 Ways to Enjoy Cold Weather Travel
by Liz Jansen
In my neck of the woods, late season travel invariably means cold weather travel, and it can be just as enjoyable as riding at any other time.  A new annual tradition started in 2009. Friends, more like family really, moved from San Francisco to Atlanta and invited me to visit them in mid-October. Seeing an opportunity to visit family I see far too little, and get some late season riding in, of course I accepted. Getting together has become an annual Thanksgiving tradition, one I look forward to all year. Unfortunately it won't work out this year, so these tips go out to those of you lucky enough to still be riding during this unseasonably cold autumn.
In spite of all my years of riding, I was still relatively green about prolonged cold weather riding on that first trip. My  only heated gear was an electric vest. I figured I could manage the temperatures with snowmobile gloves and layers. Wrong. I got off luckier than my bike, and learned valuable lessons.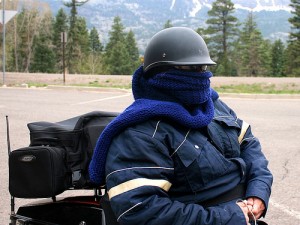 In addition to celebrating in Atlanta, we've spent the holiday on Jekyll Island, SC, and Edisto Island, SC, at lovely beach hangouts. Traveling there while staying warm, dry and cozy, and feeling the cool air when you lift your visor is exhilarating. With the leaves off the trees, you see things now that you don't see at any other time of the year.
Since that first trip I've collected better, more appropriate gear and am wiser about late season riding. For those of you who also love to extend your season safely, here's what I've learned.
Wear the right gear. The secret to staying comfortable and alert with cold weather riding is having the right gear. I'm now outfitted from ankles to neck with electric gear and can ride all day in -5 deg. C temps, staying toasty warm. My helmet is quiet, draft-free and the best I've ever worn.
Manage layering effectively. I now wear an Icebreaker merino wool base layer top, leggings and socks. They add insulation without adding bulk and are perfect for under heated gear.
Carry spare fuses. When turned up on high, heated gear can draw a lot of energy. The year I added my electric pant liners, I blew a fuse because I hadn't (read the instructions) swapped in a higher amp fuse. In any case, it's good to have spares. The heat is essential.
Adjust travel time. Daylight is scarce at this time of year and I don't like riding through the mountains in the dark. It's also harder to read the road surface and detect unsafe surface conditions. That means getting an early start and calling it a day sooner than I normally would. It's actually a good thing because your body needs more rest.
Be flexible. The weather is unpredictable at this time of year. I'll leave a day or two early and have contingency plans built into my schedule to allow for unfavourable weather.
Stay hydrated. Even bundled up so you'd think no moisture could escape, you lose water. Carry water that's easily accessible, like in your tank bag, so you can sip safely while riding. The downside with multiple layers is that stopping for a bio break is a big inconvenience.
Take frequent breaks. Riding can lull you into a false sense of wellbeing. It's important to get off the bike, even if just to stretch your legs for five minutes every hour. I usually try and time bio breaks and fuel stops accordingly, to economize time.
Know where you're going. You don't want to burn daylight looking for directions or a place to stop enroute. Until this year, my only GPS was the one on my iPhone, so I planned more precisely at this time of year, given the importance of time.
Have a back up plan. The weather is unpredictable and safety is the top priority. Cold is manageable but I draw the line on ice and snow.
If you'd like to extend your season and try cold weather riding,  you don't need to ride across the country. Start small and test it out. You may find, as I did, that it can be very enjoyable. Typically, once I get back, it's time for the bike to go into hibernation. And getting it ready for a smooth spring start-up.
photo credit: "Caveman Chuck" Coker via photopin cc