Continuing the Journey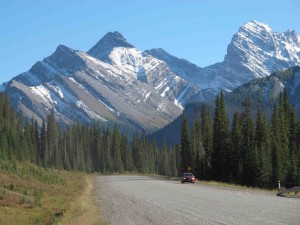 It's been almost two months since I went on sabbatical and I'm continuing the journey with a fresh perspective and new energy. It's an interesting experiment—and a weird feeling—to sit back and watch the world go on around you without participating. I enjoy the interaction, love hearing YOUR stories, and missed staying in touch, although I can't say I missed drama, or the bombardment of memes. Ironically it's also been a time when I've been physically isolated because of immobility, so I've spent a lot of time alone. And that's just what I needed.
I still don't want a car, but am eager to get back on a motorcycle. When it's time. Extended trips aren't likely feasible this year, but I can't see around those corners yet.
I don't have all the answers. I never will as long as I'm here, but I've learned a few things, some of which receive honorable mention here, and others which I'll share in more detail down the road. Like how fragile independence is and as much as I value it, how counterproductive it can be. I've discovered how much physical, emotional, and spiritual energy is needed to heal a broken body. Spending two months in a wheelchair has given me a new perspective from which to view the world. Who knew it was so awkward to have a shower, prepare meals, use a bank machine, get groceries, or do my own laundry? I've learned how incredibly difficult it can be to ask for help with the most menial of tasks.
I've learned to let go. Not entirely. That will likely take more than a lifetime. But certainly to a far greater degree than I ever thought. Being in control is an illusion. I'm more resolute about living a balanced, healthy life. I 've lost my balance twice in the past year. It's painful and I have no desire to repeat it. I'm overcome with gratitude for each halting step I take across the room. To get up from a chair and walk is something I will never again take for granted.
I know with certainty that the quest I set out on almost a year ago to study indigenous wisdom, learn about the role of culture in shaping who we are, and build on the common ground, is alive and well. How I do it is going to look different than what I expected, but the "what" hasn't changed. Once something I avoided, I now eagerly delve into my Mennonite culture. I haven't been a practitioner for years, but it's what shaped me and I want to understand it. Revisiting stories with relatives is cathartic and dare I say enlightening from all perspectives. The Wheels to Wisdom book that I expected to write will surely look different than what I imagined. I'm focusing on writing and improving those skills so I can be a better storyteller.
When I wrote Women, Motorcycles, and the Road to Empowerment, I often commented that it was a Road that always led back to one's self. And now I've had the same message in a more vivid, visceral way. I set out to find the answers in an open-ended trip through the Americas, and ended up right back where I started. With me.
I'm committed to leading with my heart, and letting my mind support it, not the other way around. This isn't rationale and it's counter to what I've always done. But what I've always done doesn't work for me any more. Sixty–one years of erecting and maintaining walls to protect that little girl and her amazing spirit do not come down easily. Although it's felt like it at times, it's not a demolition. Rather a careful peeling back of the layers. It's the greatest challenge of my life so far.
Above all, the most important thing is to be true to my heart, to listen to its calling and have the courage to follow through on its wisdom, for whatever time I'm here. To speak my truth. To be who I am, not who I think I should be, or who others think I should be. Not that this is different, but with new awareness comes new knowledge and new depths of understanding. After all, there is only one me, and who's going to do my work if I don't do it? And if I attract friends because I pretend to be someone I'm not, or because I'm a skilled marketer, I've got the wrong crowd. And so do they. What's to fear in being myself?
I knew turning 60 a year ago would be an exciting threshold to a wonderful life adventure, stepping into what some call the wisdom years. Odd as it may sound, it's been a very fulfilling, peaceful year, albeit painful and frustrating too. If the past nine months are any indication, it's going to be an exciting, gratifying, and meaningful ride.
As always, I look forward to hearing from you and sharing the Road with you.
---
[ois skin="3″]