Riders Doing Good for Others
by Liz Jansen
It's hard to find a better pairing than motorcyclists and charitable acts. Both play significant roles in my life, but on the bottom line, the most important thing for me is leaving wherever I am in time and place, better for me having passed through it.
At this time of year, there's no shortage of people in need and hundreds of reputable organizations fundraising to help them. Where do you start? It's impossible to give to all, so I let my heart and mind work together in deciding who to support.
Here are three causes that get my attention for their integrity, intent, the manner in which they engage and collaborate with recipients, their social impact, and the way their founders and volunteers embrace adventure—and life.
Riders for Health
More than twenty years after Barry and Andrea Coleman, both riders, and racers, hatched the concept around their kitchen table, Riders for Health has become a global social enterprise that manages and maintains motorcycles and four-wheeled vehicles to ensure lifesaving health care can reach even the most remote communities in Africa.
From meager beginnings and a dream, it's grown to an organization that has programs in seven countries across Africa in partnership with local hospitals and clinics, ministries of health and NGOs, and improves access to health care to over 12 million people.
Visit their website and Facebook page.
The Muskoka Foundation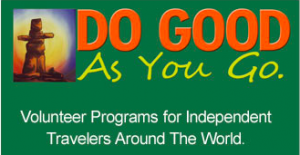 Their vision is to transform the adventure travel sector by including volunteering as a standard part of every traveler's plans. They envision travelers will contributing substantial and sustainable "Net Positive Impacts" in the more than 40 Muskoka Communities around the world.
They do this by inspiring and equipping adventure travelers, as well as empowering local partner communities.

Travelers leverage their professional skills to do good as they go, and create sustainable change.
Thanks to Nicole Espinosa from ADVMoto Magazine and RuggedRider for highlighting this organization.
Visit The Muskoka Foundation' website and Facebook page.

Lost for a Reason
Ron Grace and Mark Levesque co-founded Lost for a Reason.org (LFAR) as a way to say THANK YOU to the children and families on the Navajo reservation for the use of the land on which they ride, run and explore. It's a way to help children and families in need. They listen to the families and do their best to fill whatever needs they have from personal items to playgrounds.
LFAR has ONE real mission: To help children and families. Whether they are buying food for the food bank, supplies for school kids, playgrounds for kids to just be kids their ONE real mission can be accomplished with your help.
Visit their website and Facebook page
Watch or listen to my podcast interview with co-founder Ron Grace.
[ois skin="3″]