9 Features to Look for in a Mirror
By conveying information you would otherwise not have, mirrors act as important safety features. They reflect information back to you that you would otherwise not see – information on which you base decisions that affect your future.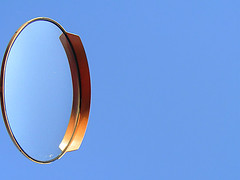 People are your mirrors in life. You want to be looking in the mirror that's going to give you a valid reflection; one you can use to base decisions that will affect your life.
9 features to look for in a mirror
Uniqueness. The information reflected back is for you alone, unique to your particular place in time and space. Focus it to get the most meaning for you. Be open to the truth that everyone is your mirror, while seeking out those whose opinions you trust.
Drag. The best mirror choices are aerodynamically suited to your bike. Poor design can create drag, reducing the fuel efficiency of your bike. Choose to accept advice from the wrong person and it can weigh you down rather than facilitating your path forward.
Size. The reflective surface needs to be large enough to give you valid information. Most jurisdictions regulate this. When processing feedback, make sure you have enough information to get a complete picture.
Shape. Convex mirrors offer a wider viewing range, but they make vehicles appear further away than they really are. Even when accepting opinions from trusted advisors, remember that they are seeing you, your situation and the world through their own filters and perspectives.
Style. It doesn't matter whether it's shaped like a wing, dice or skeleton — the surface still reflects back what it's focused on. The Universe delivers messages to us in the most surprising ways. Rule out nothing. Be receptive to all.
Blind spots. You can be so intent on focusing your mirror to get the proper rear view, you neglect the fact it's blocking your forward view of the road. It's easy to subconsciously block information you don't want to deal with, information that could be vital to your wellbeing.
Magnetism. Your bike's shape and aerodynamics will influence how dirt, dust and rain are attracted to your mirror. Not only can this be annoying, it distorts your perception, creating a potential hazard. Watch how you pick your mirrors in life. Observe who else is attracted to them and what this implies for you. Follow your intuition.
Flexibility. Mirror heads on many bikes, especially sport bikes, fold backward or forward to protect the mirror tight spaces. Those who truly care about you can roll with the punches. They're there for you to act as mirrors should you need them, but will get out of the way when appropriate.
Versatility. Motorcycle mirrors can do double duty when turn signals are added to the inside or outer edge. Your closest friends and trusted advisors are more than mirrors to you. They're an important part of your support system and are there for you when you call on them.
It's natural to gravitate to mirror styles, shapes and sizes you like, sometimes overlooking whether they give you the best information, suit your purpose or function in your best interest. Whether you're choosing mirrors for your motorcycles or life, select the features that are right for you.