Getting on the Road—The First Week
Moving out of the driveway and getting on the road wasn't so bad after all. Everything that had to be done was done, things that needed to be stored were packed away, Measha was at her vacation home, and my bike was packed.
It's been a beautiful week‑both from a weather perspective and the experiences, although I've realized I don't have the same stamina I once did. Four hundred miles in a day wears me out. I'm going to attribute it to acclimatizing to the road and expect it to get better as I get my pace. That doesn't take away from the wonderful experiences I've had already this week.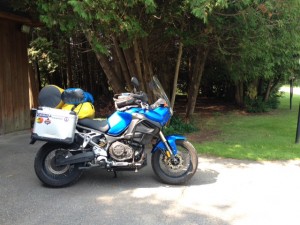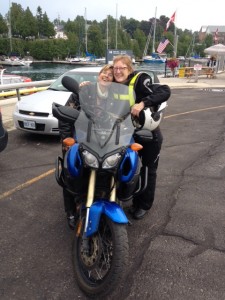 It started with my friend Barbara Wynd coming to Tobermory to see me off on the Chi Cheemaun ferry to Manitoulin Island.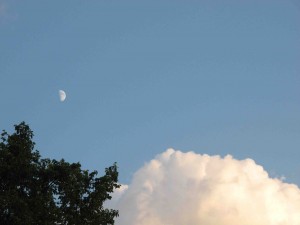 Then it was a lovely drive through the special land of Manitoulin, before stopping to camp at Batman's Campground. How could I not stay? It really wasn't as tacky as the mane implies and it was right on a lake, under a clear blue sky.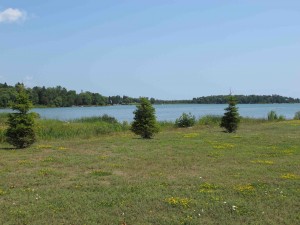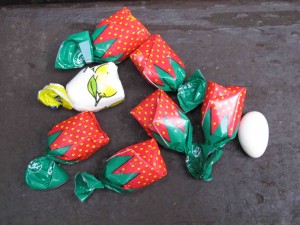 One of the highlight's from Tuesday happened at lunch. I'd stopped on the north Channel between Lake Huron and Michigan at Bruce Mines marina where there was a covered picnic area. It wasn't soon until I was no longer alone. A new-to-Canada family pulled up in their van and three children, a picnic basket and a grill burst out. The youngest, ran right over to my bike, so of course with eyes wide open, the others followed. With their parent's permission, they each got a chance to sit on it. As I was leaving, they ran over with this gift of candies. I told them I liked strawberries so they gave me more.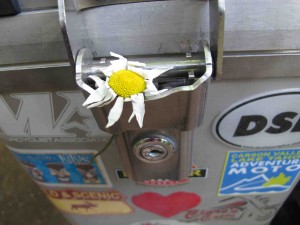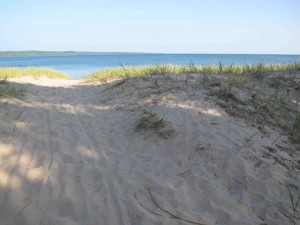 Home for the night was picturesque Pancake Bay Provincial Park, on the shore of Lake Superior. Known for it's potential for fierceness, it chose to show a more serene side. And how nice to arrive with a gift from a secret admirer!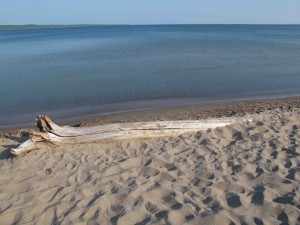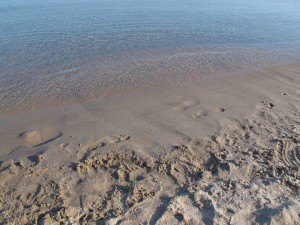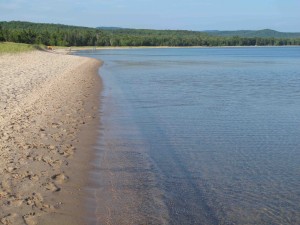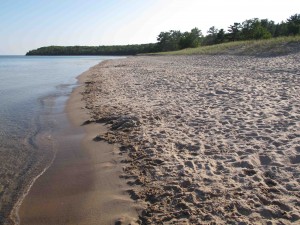 The water was crystal clear and still. You could barely tell where the water stopped and the dry sand began, except for the occasional gentle lapping. I wondered where this driftwood had started its life.
Wednesday was a day of riding along Superior's spectacular, remote and rugged north shore. The scenery was spectacular and the truckers outstandingly courteous and caring.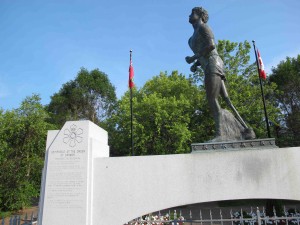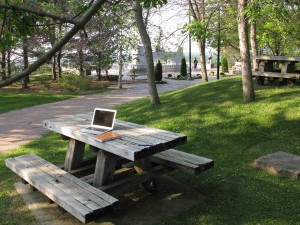 Heading out on Thursday, I knew I had to stop at the Terry Fox Memorial. I've been here before and it never fails to inspire. A fitting tribute to a courageous person who is still influencing a steady stream of people.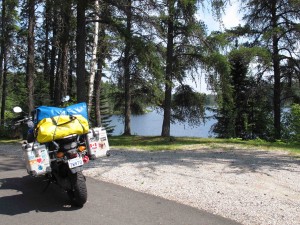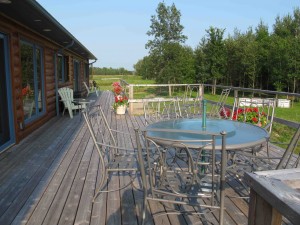 Later it was back on the bike for 300 kilometres of riding bliss from Thunder Bay to Fort Frances. While there are straight sections, most of it is gentle curves and hills through rock cuts, between lakes, rivers, and forests. And there is very little traffic—only a few logging trucks and vacationers. Mostly I had the road to myself.  I stopped around the half way point for lunch on a remote lake, before ending the day with friends who have a lovely home on the Rainy River, just west of  Fort Frances.  They'll be showing me the local sights over the next few days and I'll pass them along!