A Gift from the Past and a Lesson on Fear
by Liz Jansen
The seas pitched and roiled as the SS Minnedosa steamed across the North Atlantic from London to Quebec City. Below deck, many passengers were confined to cramped quarters, too ill to even raise their head. On deck, a young man gazed pensively at the horizon towards a new life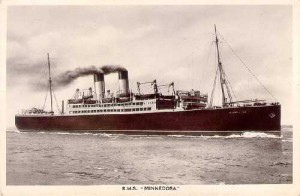 It was 1924 and that 24-year old man was my grandfather. His wife suffered from severe seasickness and remained below deck for much of their crossing. Both were dealing with inconsolable grief, exhaustion and fear. They were refugees, having survived years of unspeakable horrors during WWI, horrors which only intensified during Lenin's rise to power and the Bolshevik revolution.
After losing their land and most of their possessions, existing for years in near-starvation and living in constant fear of marauders, they'd boarded a train on May 5th to take them to Moscow from their village in the Ukraine.[1] Accompanying these now peasants, was their 8-month old daughter, their love for each other, strong values, and little else. The devastation was not yet complete as they were soon to learn. The baby became ill and customs agents turned them back. Little Ellie died of whooping cough shortly after returning to the village. Within three days of her burial, my grandparents were back on the train, still in time to be processed through immigration, re-join their group and catch the train to the coast, and freedom. Fleeing everything they had and knew was their only chance of survival. Not all their friends and family were so fortunate.
It would be decades before snippets of the brutality they'd witnessed and survived would slip out, and even then it was tempered and told to very few. But that day on deck, Opa, in what must have been a dark night of the soul, made a rare journal entry. In the distinctive Old German script of his ancestors, he wrote, "I'm leaving the land of my birth, the land of my language. I'm just married. I've just buried my first child. I'm going to a strange country, with strange people, and a strange language. What does God possibly have in store for me?"[2]
This story only reached my ears recently while interviewing my uncle for a family history. In his late years, Opa had shown him, the eldest son and confidante, the weathered journal. Now 85, my uncle's voice conveyed deep pain at recounting the story.
Try as I might, I cannot imagine the kaleidoscope of grief and fear my grandfather felt at that moment on the deck of the SS Minnedosa. Yet little did he know that 90 years later, his private musings would be shared on the internet. Or that his words would prompt a reality jolt and inspire his granddaughter to action.
While his look ahead trained on a future with seemingly insurmountable obstacles, his faith was resolute. I look ahead at 2014 knowing I'll try new things, experience success and even experience failure. While it's exciting, there's an unmistakable fear, which persistently tries to push through and immobilize me. This story, which runs in my blood, has put my ridiculous fear in perspective. Because also running in my blood is that strength of character, courage and power that no one can take away. Thank you Opa.
---
[1] Agricultural expertise got my Mennonite ancestors noticed by Catharine the Great, who invited them to colonize the Ukraine in the late 1700's. In exchange, they were allowed to keep their language and religion, factors which bode poorly during WWI and the Bolshevik Revolution.
[2] Quoted to the best of my uncle's recollection