10 Reasons Why I'm Hitting the Road
Loaded with gear for two months on the road, my midnight black Yamaha FZ1 was pointing west, symbolically and literally into parts unknown, and I was ready to go! The date was August 4, 2003 – almost exactly ten years ago.
Forty-nine years of beliefs doesn't go away overnight and so my "Odyssey" was designed to get reacquainted with whom I was and how I could use my expertise, skills and gifts to be of best service. How better than a long motorcycle ride to help out with that?
Much has happened in the intervening time and my life has been rich beyond my wildest expectations. There have been some serious lessons in that time and it's never been easy, but it's been my road and I wouldn't change a thing.
That FZ1 took me through some incredible life scenery in the 208,000 km (130,000 miles) we were together. Two years ago, a sky-blue Super Ténéré came into my life and picked up the pace even more.
Tomorrow I'm headed out for six weeks or so on the road, also heading west and always into parts unknown. Being in much different circumstances, you'd think it would be an easy decision. Not so. I wasn't going to go anywhere this summer because it wasn't in my budget, nor did I think I could carve 6 weeks out of my schedule. Then I started listening to my own advice, and listing the pro's of going and weighing them against the con's.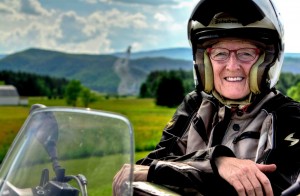 10 Reasons Why I'm Hitting the Road
My heart is guiding me in this direction. I've written often about listening to one's intuition and following one's heart. That message is meant for me as well.
I turned 59 this year. There are many places that I want to visit on my motorcycle in the next 20 years. What am I waiting for? And why would I defer travel?
One of my goals is to be able to do my work from anywhere. Here's an opportunity to experiment and see how I can make it work. In addition to preparing courses, I'll be writing travel stories.
I get inspiration from being out on the road. My time is divided between near solitude and being "out there." Both are necessary to feed my spirit and create the work I'm meant to do.
I'm in the right place wherever I am. When you follow your inner guidance, it always steers you right. That means the people and the experiences will be right for what I need right now. Just as important as others touching me, is that I can touch others wherever I am. We get stuck thinking we can only be effective in one place. It's a big world we live in!
It's an experiment in simplicity. I'll be camping (mostly) and living from what I can carry on my bike.
It will test my resourcefulness. While the "classroom" format may change, the lessons won't stop just because I'm on the road.
A change in surroundings offers a whole new perspective. Again, it's easy to get stuck in a rut and view things through the same filters. Being with people who see the world differently is always an eye opener. One of my biggest desires is to learn to work smarter, not harder. Looking at things through fresh eyes will help with that.
It's where I feel most connected to Spirit/the Universe. A few years ago on a 3-week loop I dubbed my Jupiter Journey (Jupiter was brilliant in the sky the whole time), I rode from Ontario through Montana, down to Arizona and up through the Smokey Mountains. I had never experienced the connection with the Universe so vividly as I did while riding under the big open sky in the mountains and valleys of Montana. It happened again more recently when I was riding in Pocahontas County, West Virginia. This is our natural state and when we see our role in the world most clearly.
Why not? When it comes down to it, there is no reason NOT to go.
It seemed to be no coincidence that my MAC crashed and my hard drive had to be wiped clean last week. If I had any doubts at all about going, the message that it was time to get ride of mental clutter and have a look at things from a new perspective was loud and clear!
I'm not expecting major changes in my work; merely tweaks that will help me be of greater service in what I'm here to do. As excited as I am to get going, there's still a fear, a dragging of the feet to get moving. I recognize those gremlins and know that as soon as I am out of my driveway, they'll settle down for the ride.
"You're off to Great Places!
Today is your day!
Your mountain is waiting,
So… get on your way!"
― Dr. Seuss, Oh, the Places You'll Go!
Related Post: 10 Steps in Preparing for my Solo Motorcycle Trip